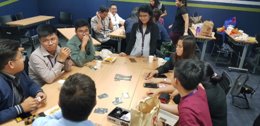 On December 3, 5, 11 and 13, P&Ause hosted board game nights as a fundraiser to support the underprivileged elementary-level children from selected communities through scholarship programs. For only P150 entrance, employees were entirled to use any of their board game(s) of choice. For every P3,000 collected, we can provide a child with uniform, allowance and school supplies for one whole year.​
​Overall, proceeds from our P&Alaro Project will support the education of 6 children from Luuk Tongkil Elementary School in Jolo Sulu, Amaloy Elementary School in Ungkaya Pukan, Basilan, and Concepcion Sur Elementary School in Santa Maria, Romblon. In addition, our partners, directors and managers have pledged to sponsor additional 30 children on top of our P&Alaro proceeds!​
​It has become a venue for employees to de-stress, have fun and support the cause all at the same time. ​