We value each of the 50,000 people in our member firms equally and appreciate every contribution across Grant Thornton.
If you wish to develop your talents to the fullest and build a fulfilling career, join P&A Grant Thornton, where you will be part of a dynamic...
Fresh Graduates

Fresh Graduates

Students

Whether you are starting your career as a graduate or school leaver, P&A Grant Thornton can give you a flying start. We are ambitious. Take the fact that we're the world's fastest-growing global accountancy organisation. For our people, that means access to a global organisation and the chance to collaborate with more than 40,000 colleagues around the world. And potentially work in different countries and experience other cultures.

Experienced hires

P&A Grant Thornton offers something you can't find anywhere else. This is the opportunity to develop your ideas and thinking while having your efforts recognised from day one. We value the skills and knowledge you bring to Grant Thornton as an experienced professional and look forward to supporting you as you grow you career with our organisation.
If you would like to join Grant Thornton, you may have a few questions about our organisation, how we do business, our culture and our global opportunities....
Payroll processing services are provided by P&A Grant Thornton Outsourcing Inc.
More and more companies are beginning to realize the benefits of outsourcing their noncore activities, and the first to be outsourced is usually the payroll function. Payroll is easy to carve out from the rest of the business since it is usually independent of the other activities or functions within the Accounting Department.
Payroll processing may look simple, but the process can get complicated, especially as a business expands its manpower. A payroll accountant has to make sure that correct taxes as well as loans of their employees are properly deducted, update the tax status of employees (single, married, no. of dependents, etc.) on a regular basis; monitor work activities during the payroll period (overtimes, sick leaves, vacation leaves, etc.); know which income accounts are taxable or not (de minimis, bonuses within the P82,000 limit, etc.); know the rules and regulations and the latest updates of relevant government agencies (BIR, SSS, Pag-IBIG, PhilHealth, etc.); and ensure that payroll processing and payouts are done on time to avoid employee complaints or dissatisfaction. In addition, the payroll accountant has to ensure that contributions to various government agencies are properly posted to the accounts of the employees.
In some companies, payroll processing consumes a significant part of management time: The highest finance or HR officer in the company oftentimes handles management or executive payroll. If payroll is outsourced, the executive officer has better use of his or her time than reviewing or processing the payroll. Moreover, there is the issue of confidentiality – some employees may inadvertently gain access to confidential payroll information when data are lying around during the payroll processing period.
Another issue that business owners must watch out for with regard to payroll is fraud. Since the processing of payroll is handled by just one or two trusted persons, oversight may be lax and review may not always be conducted thoroughly, thus fraud happens.
P&A Grant Thornton can handle your payroll processing needs so that your management team can focus on your core competencies, enabling you to concentrate on what's really important to your business . Our team of well-experienced and properly trained professionals can handle your payroll requirements whether you have 10 or 10,000 personnel.
In addition to the computation of employees' pay, P&A Grant Thornton can also provide the following functions under our payroll processing services:
Maintain bank accounts exclusively for payroll and payroll-related disbursements
Prepare schedules of statutory and internal contributions and obligations
File and pay statutory contributions and obligations, manually or electronically
Annualize employees' income tax
Provide secure online payslips through our ePayroll facility
Handle administration of benefits that needs coordination with government agencies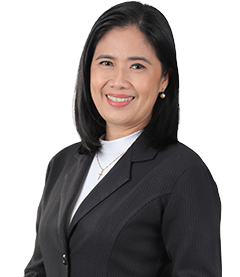 Get in touch
Principal, Business Process Solutions/Outsourcing
Mary Grace Morales-Joboco