A welcome return to growth
Dynamic businesses need to move with speed and purpose if they want to capitalise on opportunities in hospitality and tourism. At P&A Grant Thornton, we know exactly what it takes to succeed and go beyond the standard in this rapidly changing sector.
While many businesses may remain trapped in a cycle of austerity, we can help make sure your organisation is structured, governed, and managed to thrive.
Why P&A Grant Thornton?
Drawing on our deep sector knowledge, we can help you navigate the changing business environment for hospitality and tourism companies.
We understand the global economic cycle and the trends in tourism and hospitality, from social media and online travel agent impacts to new age consumers, green operations, and emerging market challenges. In the face of these and many other challenges, but also by understanding what's driving hospitality growth, we can work with you to scenario plan, manage costs, create flexible organisations, and finance growth.
Through our understanding of traditional and emerging markets, we can also work with you to develop and expand into new areas.
Our solutions
Our teams provide services tailored to the hospitality and tourism industry, including working with you to:
select the right hotel operator and or/brand for your business
undertake feasibility studies and business plans
develop marketing strategies, including channel and pricing strategy
carry out operational re-structuring/business model optimization
navigate the prevailing gaming legislative and tax regulations in different countries.
To learn more about our services contact Nelson Dinio or Wowie Roguel, our local industry leaders.
Makati
Partner, Audit & Assurance; Partner-in-Charge, P&A Calabarzon Operations
Makati
Nelson started his professional career in accounting in 1998. During his time with the Firm, he has won both the Founders' Award and the Primus Award, the highest forms of recognition for team excellence and individual excellence at P&A Grant Thornton, respectively. Notably, he was also stationed at the Los Angeles office of Grant Thornton where he handled financial audit and Sarbanes-Oxley engagements for US publicly listed companies.
Learn more about Nelson
Partner, Audit & Assurance; Partner-in-Charge, P&A Calabarzon Operations
Nelson Dinio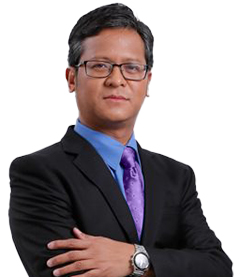 Makati
Partner, Tax Advisory & Compliance; Head of Japan Desk
Makati
Wowie has been in public accounting since he started his professional career in 1995. He represents clients in tax cases before the BIR and the DOF, addresses queries on tax and other corporate concerns, and handles registration matters and other requirements for doing business in the Philippines. He also conducts research on issues affecting individual and corporate taxpayers.
Learn more about Wowie