We value each of the 50,000 people in our member firms equally and appreciate every contribution across Grant Thornton.
If you wish to develop your talents to the fullest and build a fulfilling career, join P&A Grant Thornton, where you will be part of a dynamic...
Fresh Graduates

Fresh Graduates

Students

Whether you are starting your career as a graduate or school leaver, P&A Grant Thornton can give you a flying start. We are ambitious. Take the fact that we're the world's fastest-growing global accountancy organisation. For our people, that means access to a global organisation and the chance to collaborate with more than 40,000 colleagues around the world. And potentially work in different countries and experience other cultures.

Experienced hires

P&A Grant Thornton offers something you can't find anywhere else. This is the opportunity to develop your ideas and thinking while having your efforts recognised from day one. We value the skills and knowledge you bring to Grant Thornton as an experienced professional and look forward to supporting you as you grow you career with our organisation.
If you would like to join Grant Thornton, you may have a few questions about our organisation, how we do business, our culture and our global opportunities....
We deliver value-added audit and assurance services to our clients, helping them manage their fiscal responsibilities with prudence and foresight.
We go beyond simply issuing audit reports. Part of our role as auditors is to understand the people behind the numbers and accounts. In providing our services to clients who operate in increasingly complex and competitive environments, we recognize that our advisory functions are as important as our core audit assurance services, and they look to us for advice on a range of strategic and technical issues, financial transactions, and growth opportunities.
Our audit and assurance services go beyond numbers.
Audit and assurance services
P&A Grant Thornton provides audit and assurance services that go beyond numbers. We use only the most up-to-date auditing techniques and procedure that, together with a thorough understanding of your business, result in an audit approach fully customized to your needs.
P&A Grant Thornton auditors will regularly dialogue with you , so that we may address your most relevant needs and concerns.
Beyond our attest function, we provide timely and cost-effective recommendations that enhance internal control systems and procedures, and add value to your business.
Every engagement we handle involves the use of the latest technology, techniques and procedures; a thorough understanding of the client's business; strict adherence to the highest standards of professional conduct, and a quality engagement team consisting of highly-skilled professionals.
Our Audit and Assurance Division provides:
Annual and short period audit of financial statements
Review engagement
Other services such as technical advice and training, Securities and Exchange Commission (SEC) reporting and compliance, assistance in applying for an increase in capital stocks with the SEC, and Philippine financial statements translation to Japanese-readable form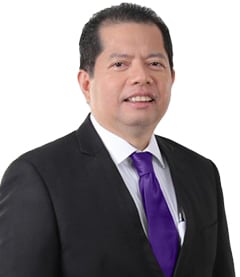 Get in touch
Practice Leader, Audit & Assurance