We value each of the 50,000 people in our member firms equally and appreciate every contribution across Grant Thornton.
If you wish to develop your talents to the fullest and build a fulfilling career, join P&A Grant Thornton, where you will be part of a dynamic...
Fresh Graduates

Fresh Graduates

Students

Whether you are starting your career as a graduate or school leaver, P&A Grant Thornton can give you a flying start. We are ambitious. Take the fact that we're the world's fastest-growing global accountancy organisation. For our people, that means access to a global organisation and the chance to collaborate with more than 40,000 colleagues around the world. And potentially work in different countries and experience other cultures.

Experienced hires

P&A Grant Thornton offers something you can't find anywhere else. This is the opportunity to develop your ideas and thinking while having your efforts recognised from day one. We value the skills and knowledge you bring to Grant Thornton as an experienced professional and look forward to supporting you as you grow you career with our organisation.
If you would like to join Grant Thornton, you may have a few questions about our organisation, how we do business, our culture and our global opportunities....
We offer Staff Augmentation services where our staff, under the direction and supervision of the company's officers, perform accounting and accounting-related work.
It is a familiar enough scenario: A company suddenly has an urgent need for personnel on a short term, project basis to do accounting or accounting-related work. Considering the short-term nature of the work, it becomes very difficult to find interested candidates. Moreover, companies do not need just anybody, but people with sufficient technical accounting skills.
P&A Grant Thornton has a pool of skilled accounting specialists who can fill the gap for companies in such situations. We offer Staff Augmentation services where our staff, under the direction and supervision of the company's officers, perform accounting and accounting-related work. We have a long list of clients that have benefited from our assistance with the following activities:
Migration from one accounting system to another accounting system
Bank reconciliation for several bank accounts that have not been reconciled for years
Data cleansing, such as reconciliation of balances in subsidiary ledgers of receivables and payables with the general ledger balances
Physical counts of inventories and reconciling the results of the physical count with the accounting records
Count of property and equipment; tagging and reconciliation of the count with the accounting records; and properly setting up the property ledgers
Preparation of schedules and documentary supports and requirements during audits by internal and external parties, including government agencies
Preparation of statements of accounts for certain customers
Acting as accounting personnel while regular accounting staff are on leave
This is just a sampling of the services we offer, and we can provide more short-term accounting services on short notice. We can adjust the schedules of our people to fit your work hours and we guarantee high-quality service: Our team is made up of technically competent and properly trained people who are prepared to handle your needs.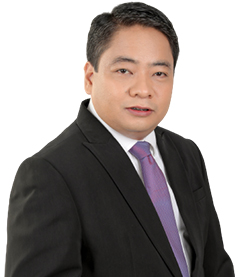 Get in touch
Director, Business Process Solutions/Outsourcing