We value each of the 50,000 people in our member firms equally and appreciate every contribution across Grant Thornton.
If you wish to develop your talents to the fullest and build a fulfilling career, join P&A Grant Thornton, where you will be part of a dynamic...
Fresh Graduates

Fresh Graduates

Students

Whether you are starting your career as a graduate or school leaver, P&A Grant Thornton can give you a flying start. We are ambitious. Take the fact that we're the world's fastest-growing global accountancy organisation. For our people, that means access to a global organisation and the chance to collaborate with more than 40,000 colleagues around the world. And potentially work in different countries and experience other cultures.

Experienced hires

P&A Grant Thornton offers something you can't find anywhere else. This is the opportunity to develop your ideas and thinking while having your efforts recognised from day one. We value the skills and knowledge you bring to Grant Thornton as an experienced professional and look forward to supporting you as you grow you career with our organisation.
If you would like to join Grant Thornton, you may have a few questions about our organisation, how we do business, our culture and our global opportunities....
We make it a point to keep our clients abreast of the developments and updates relating to the growing complexities in the accounting world.
Technical advice and training
We offer seminars and trainings on audit and tax-related matters, such as updates on Accounting Standards, new pronouncements and Bureau of Internal Revenue (BIR) issuances, as well as other developments that affect our clients' businesses.
Participants are entitled to credited units for Continuing Professional Education (CPE), which are required by the Board of Accountancy. CPE is indicative of an individual's genuine concern for his or her continued growth as a professional. Our team can help in achieving that.
SEC reporting and compliance
Aside from opinions for audited financial statements, we also accept requests for the preparation of General Form for Financial Statements (GFFS) and other reports, which will be submitted to the Securities and Exchange Commission (SEC) on an as-the-need-arises or annual basis as embodied in the Securities Regulation Code (R.A. 8799).
Assistance in applying with SEC for an increase in authorized capital stock
Preparing reports and certifications for cash payments or converting advances/liabilities to equity are the usual transactions that a service firm undertakes for clients, but at P&A Grant Thornton, we go beyond expectations. We can help you comply with the technical requirements set by the SEC for increasing authorized capital stock. We can provide guidance in completing the basic needs and additional requirements depending on the kind of payment on subscription.
Translation of Financial Statements into Japanese language
We have a Japan Desk that has developed a keen understanding of Philippine Financial Reporting Standards and tax rules and regulations. This Group is primarily focused on serving, and coordinating with, our valued Japanese clients. Most of the Japanese firms operating in the Philippine economic zones are required by their head office or Japanese counterpart to submit reports on their financial statements, including financial highlights, for a specific operating period. One of the services offered by our Japanese Desk is assistance in the translation of such financial statements into the Japanese language.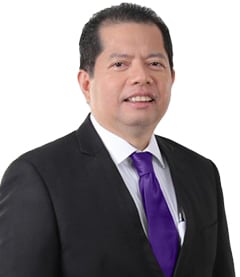 Get in touch
Practice Leader, Audit & Assurance