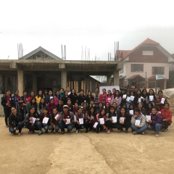 After the devastation of Typhoon Ompong (Mangkhut) in the northern provinces of the Philippines, at least 59 fatalities have been reported. The typhoon collapsed houses, torn off roofs, and downed power lines. Moreover, there were a lot of eroded and flooded schools and students and teachers had to relocate to ranger stations and makeshift classrooms for the meantime.​
​Among the priority sectors based on initial assessment of Inter-Agency Rapid Assessment Report released by United Nations Office for the Coordination of Humanitarian Affairs, education seems to be the least addressed.​
On 5 October 2018, P&Ause Team reaches out to Adaoay National High School in Abucot Extension, Kabayan, Benguet to provide educational needs such as whiteboards (with markers), tables, chairs, and printer. P&Ause also celebrated World Teacher's Day with the teachers of the said school. Students, teachers, and the P&Ause Team enjoyed the rest of the day with a short program for the beneficiaries.​