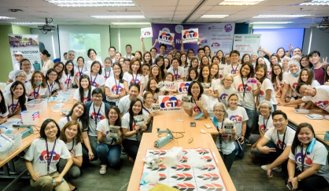 In line with Grant Thornton's 3rd Global CSR Day, P&A Grant Thornton conducted different Corporate Social Responsibility (CSR) activities simultaneously in different parts of the country on September 15, 2017. ​
​For Makati office, P&AUSE partnered with International Care Ministries (ICM) and Rise Against Hunger (RAH) for "Project Nutri-P&Ack", a meal-packaging event that would benefit an ultrapoor community in Visayas. The project involved preparing at least 2,160 "nutri-packs" containing nutritious, dehydrated meals comprise of rice, soy, vegetables, and essential vitamins and minerals. The event was conducted at the P&A Grant Thornton Academy located in Salustiana D. Ty Tower, Makati; participated by around 100 staff.​
​The bags prepared were then distributed by ICM and P&AUSE Cebu team to the adopted ultrapoor community in Cebu.​

Recognizing the needs of the growing number of deprived and ill-treated street children, P&Ause Cebu partnered with Cebu City Task Force on Street Children as part of Grant Thornton's 3rd Global CSR Day. ​
​With the help of the administrators, P&Ause Cebu was able to address the needs of the orphanage through the following activities: a. Health and Sanitary Awareness and General Cleaning; b. Fun-filled activities (games, snacks, song and dance number, etc.); and, c. Gift-giving (toys, garments, foods, etc.).​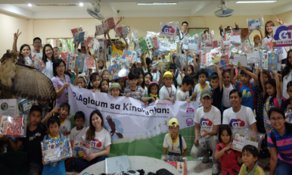 P&Ause Davao took part in the Global CSR Day by raising awareness on environmental and wildlife preservation for our future generation through "P&Aglaum sa Kinaiyahan".​
​The program was participated by ninety five grade three students from Malagos Elementary School who were educated on how to preserve the natural environment and to raise awareness on the wildlife conservation issues. ​
​The students joined a tree-planting activity in Malagos Watershed Reservation, and had a personal encounter with the Philippine Eagle and other animals sheltered in Philippine Eagle Foundation. The activity ended with the distribution of school supplies which were delightedly received by the participating students.​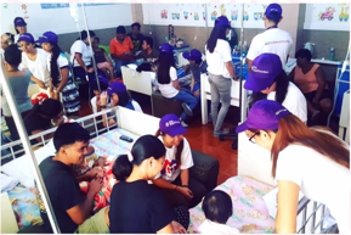 As part of the 3rd Global CSR Day, P&Ause Cavite, in coordination with Cavite Junior Philippine Institute of Accountants (CAJPIA), conducted "P&Agkalinga Tungo sa P&Ag-unlad." ​
​The program benefited the pediatric patients of General Trias Maternity & Pediatric Hospital (GTMPH) through various activities. The highlights of which were the storytelling conducted by CAJPIA volunteers and the dance presentation of a mascot which brought smiles and laughter to the patients. After the short program, food and gifts were distributed to the patients, and some basic pediatric needs such as milk and diapers were handed over to the hospital administrators. Moreover, financial assistance amounting to almost Php50,000 was given to the hospital to help their current and forthcoming pediatric patients.​