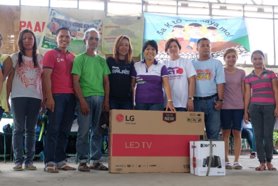 In partnership with the University of the Philippines – Diliman – Junior Philippines Institute of Accountants (UP-JPIA), P&Ause held a second run of its EduKahon program at Apolinario Mabini High School in Mabini, Batangas on June 18, 2016.​
​Over 100 high school students received school supplies, bags, and slippers donated by P&Ause. The school also received an LED TV and speakers from P&Ause, which will be used as an additional learning tool for the students.​
​P&A Grant Thornton's CEO and Chairperson Marivic Españo and Business Process Solutions Partner Paz Malubay, together with more than 50 P&A staff members and UP-JPIA students volunteered to help distribute the school supplies to the chosen high school students. The UP-JPIA students also prepared games and activities for the students to enjoy.​
​