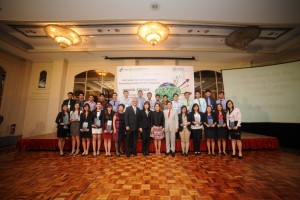 For the second time around, P&A Foundation, in cooperation with the Association of Certified Public Accountants in Commerce and Industry (ACPACI) and the Philippine Institute of Certified Public Accountants (PICPA), organized the 16th Search for the Outstanding Accounting Students of the Philippines (SOASP). The SOASP is an annual nationwide competition which seeks to determine the top Accountancy students in the country and open doors of career opportunities for students.

There were a total of 297 students from 56 universities and colleges from NCR, CAR, Region I, II, III, IVA, IVB, V,VI, VII, X, XI, and XII who participated in the Qualifying exam which was held simultaneously on October 18, 2014 at 12 testing centers nationwide. The examination covered nine subjects: Business Law, Current Issues/Economics, Finance, Financial Accounting, Information Technology, Management, Managerial Accounting, Marketing, and Taxation. After the qualifying exam, the top 25 students with the highest score for all 9 subjects were determined as the Top 25 Finalists who moved forward to the Grand Finals competing in a Quiz Bowl. The Grand Finals was held on December 12, 2014 at the Grand Ballroom, Century Park Hotel Manila.

The Top 25 finalists who competed in the Quiz bowl were Jowls Fell Acuña, Rieland Cuevas, Jaecelle Margrett Dy, Shaun Anthony Go, and Jamaica Marjadas of University of San Carlos, James Robert Aguila of Polytechnic University of the Philippines-Manila, John Arvi Armildez, Frazelle Buclatin, Reeva Calapatia, and Charles Anson Renz Cambaling of Far Eastern University-Manila, Michael John Cortez, May Anne Reyes, and Mary Grace Delos Santos of University of Santo Tomas, Michael John David of Holy Angel University, Danes Derick Dolz and Aljes Reyes of Bicol University, Catherine Joyce Espineda of Wesleyan University, Jarell Galut of Central Luzon State University, Joanne Juntilla and Sharmaine Dianne Mamaed of Ateneo de Davao University, Mhel Jon Legaspi of Araullo University, Lindley Jan Mesina of University of the East-Manila, Daewin Pamittan of University of Saint Louis, Stephanie Solomon of University of Baguio, and Melan Anthony Yap of De La Salle University-Manila. The three finalists who topped the Quiz Bowl proceeded to the final round – the Question and Answer – where the Board of Judges asked them individual questions.

Sharmaine Dianne Mamaed of Ateneo de Davao University emerged as the 2014 SOASP Champion. On the other hand, Michael John David of Holy Angel University and Catherine Joyce Espineda of Wesleyan University placed second and third respectively. Top Achievers from the Qualifying Examination were also acknowledged; Jowls Fell Acuña and Jamaica Marjadas, both from University of San Carlos garnered the Highest Over-all Score during the Qualifying Examination.

This year's SOASP Board of Judges was composed of P&A Managing Partner Leonardo Cuaresma, Jr., 2014 ACPACI President Feliciana Santos, and Philippine Duplicators President & COO and PICPA Committee Chair for the Search Samuel Villacampa. Other notable professionals from the industry present in the event were 2013 ACPACI President Consuelo Cadeliña, ACPACI Executive Director Wilhelmina Cuico, ACPACI Auditor & Liaison Director Edna Constantino, 2014 PICPA National President Tita Caluya, PICPA Executive Director Jose Ireneo, SOASP Project Leader Paz Malubay, P&A Tax Advisory & Compliance Partner Wowie Roguel, and 2013 SOASP Champion Joan Mae Lugtu