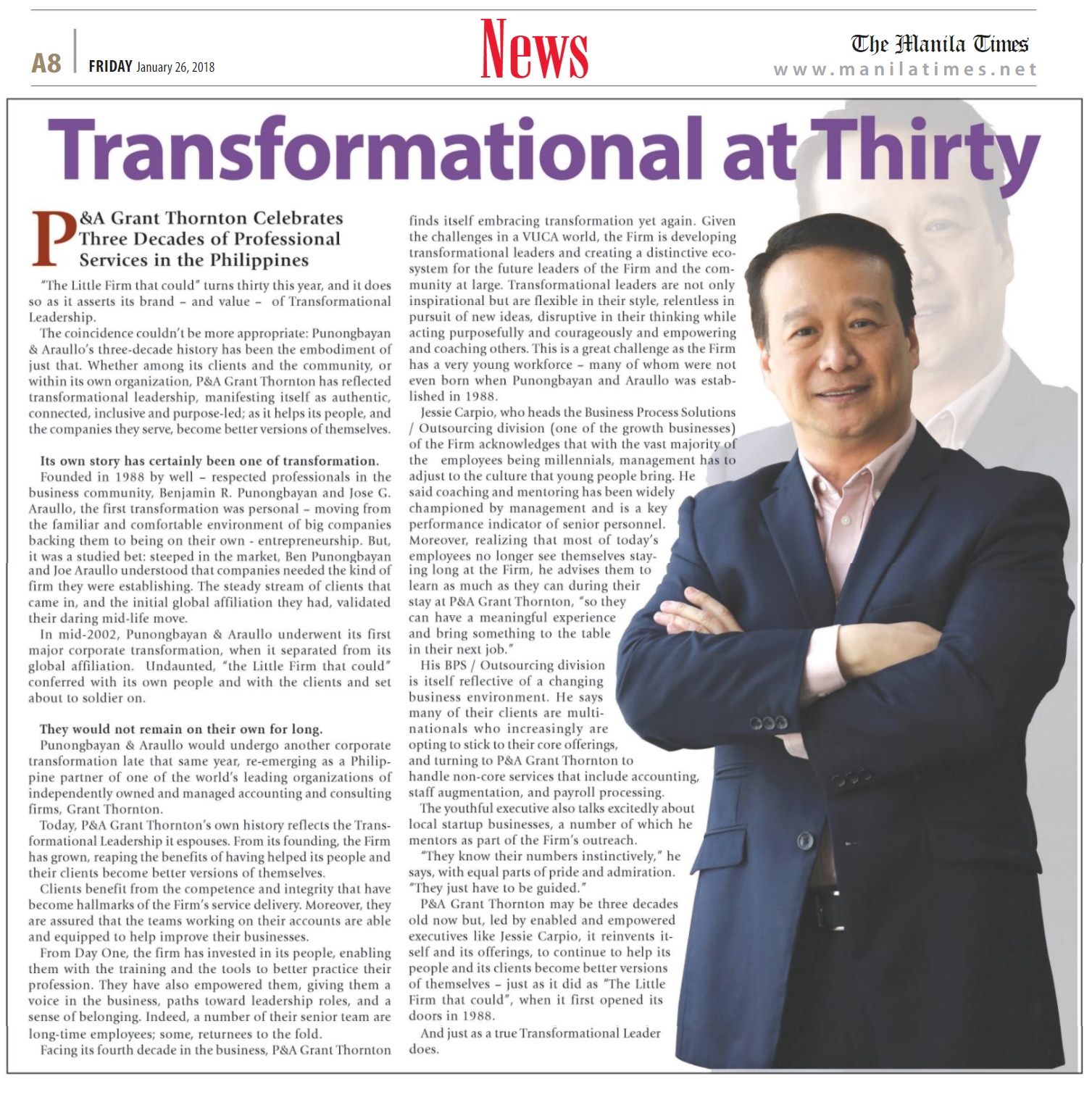 P&A Grant Thornton Celebrates Three Decades of Professional Services in the Philippines
"The Little Firm that could" turns thirty this year, and it does so as it asserts its brand – and value – of Transformational Leadership.
The coincidence couldn't be more appropriate: Punongbayan & Araullo's three-decade history has been the embodiment of just that. Whether among its clients and the community, or within its own organization, P&A Grant Thornton has reflected transformational leadership, manifesting itself as authentic, connected, inclusive and purpose-led; as it helps its people, and the companies they serve, become better versions of themselves.
Its own story has certainly been one of transformation.
Founded in 1988 by well – respected professionals in the business community, Benjamin R. Punongbayan and Jose G. Araullo, the first transformation was personal – moving from the familiar and comfortable environment of big companies backing them to being on their own - entrepreneurship. But, it was a studied bet: steeped in the market, Ben Punongbayan and Joe Araullo understood that companies needed the kind of firm they were establishing. The steady stream of clients that came in, and the initial global affiliation they had, validated their daring mid-life move.
In mid-2002, Punongbayan & Araullo underwent its first major corporate transformation, when it separated from its global affiliation. Undaunted, "the Little Firm that could" conferred with its own people and with the clients and set about to soldier on.
They would not remain on their own for long.
Punongbayan & Araullo would undergo another corporate transformation late that same year, re-emerging as a Philippine partner of one of the world's leading organizations of independently owned and managed accounting and consulting firms, Grant Thornton.
Today, P&A Grant Thornton's own history reflects the Transformational Leadership it espouses. From its founding, the Firm has grown, reaping the benefits of having helped its people and their clients become better versions of themselves.
Clients benefit from the competence and integrity that have become hallmarks of the Firm's service delivery. Moreover, they are assured that the teams working on their accounts are able and equipped to help improve their businesses.
From Day One, the firm has invested in its people, enabling them with the training and the tools to better practice their profession. They have also empowered them, giving them a voice in the business, paths toward leadership roles, and a sense of belonging. Indeed, a number of their senior team are long-time employees; some, returnees to the fold.
Facing its fourth decade in the business, P&A Grant Thornton finds itself embracing transformation yet again. Given the challenges in a VUCA world, the Firm is developing transformational leaders and creating a distinctive ecosystem for the future leaders of the Firm and the community at large. Transformational leaders are not only inspirational but are flexible in their style, relentless in pursuit of new ideas, disruptive in their thinking while acting purposefully and courageously and empowering and coaching others. This is a great challenge as the Firm has a very young workforce – many of whom were not even born when Punongbayan and Araullo was established in 1988.
Jessie Carpio, who heads the Business Process Solutions / Outsourcing division (one of the growth businesses) of the Firm acknowledges that with the vast majority of the employees being millennials, management has to adjust to the culture that young people bring. He said coaching and mentoring has been widely championed by management and is a key performance indicator of senior personnel. Moreover, realizing that most of today's employees no longer see themselves staying long at the Firm, he advises them to learn as much as they can during their stay at P&A Grant Thornton, "so they can have a meaningful experience and bring something to the table in their next job."
His BPS / Outsourcing division is itself reflective of a changing business environment. He says many of their clients are multinationals who increasingly are opting to stick to their core offerings, and turning to P&A Grant Thornton to handle non-core services that include accounting, staff augmentation, and payroll processing.
The youthful executive also talks excitedly about local startup businesses, a number of which he mentors as part of the Firm's outreach.
"They know their numbers instinctively," he says, with equal parts of pride and admiration. "They just have to be guided."
P&A Grant Thornton may be three decades old now but, led by enabled and empowered executives like Jessie Carpio, it reinvents itself and its offerings, to continue to help its people and its clients become better versions of themselves – just as it did as "The Little Firm that could", when it first opened its doors in 1988.
And just as a true Transformational Leader does.
As published in The Manila Times, dated 26 January 2018