It's that time of the year: DOLE provides guidelines on 13th month pay
Article 5 of the Labor Code of the Philippines, as renumbered, and Presidential Decree No. 851 mandate every employer in the private sector to pay their rank-and-file employees with 13th month pay. To reiterate this responsibility, the Department of Labor and Employment (DOLE) has issued Labor Advisory No. 18, which emphasizes the guidelines on the payment of 13th month pay for calendar year 2021.
All rank-and-file employees from the private sector, who have worked for at least one (1) month during the calendar year, are entitled to receive 13th month pay regardless of the employee's position, designation, employment status, and the method by which the wages are paid. The amount of 13th month pay required by our existing laws is at least one-twelfth (1/12) of the total basic salary earned by an employee within the calendar year, without prejudice to existing company policies, employment contract, or collective bargaining agreement, if any.
To illustrate, using the basic wage in the NCR at P 537.00 per day and a six-day workweek or an equivalent Monthly Basic Salary of P 14,006.75 (P 537.00*313/12 months), 13th month pay is computed as follows: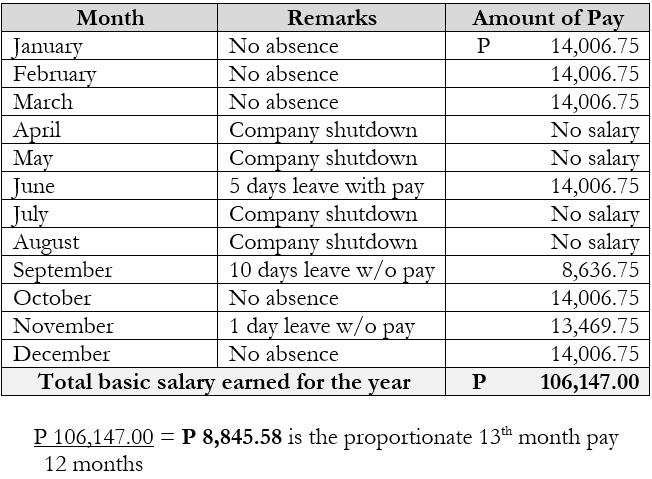 The employers are expected to release the pay on or before December 24, 2021. DOLE has clarified that it shall not entertain any application for exemption or for deferment of the payment of 13th month pay.
Further, employers are required to submit a compliance report on or before January 15, 2022, through the DOLE Establishment Report System. This can be accessed online at https://reports.dole.gov.ph/. The report shall substantially detail:
Name of establishment;
Address;
Principal product of business;
Total employment;
Total number of workers benefitted;
Amount granted per employee;
Total amount of benefits granted; and,
Name, position, telephone number of person giving the information.
Please be guided accordingly.
Source:
P&A Grant Thornton
Certified Public Accountants
As published in SunStar Cebu, dated 24 November 2021