We value each of the 50,000 people in our member firms equally and appreciate every contribution across Grant Thornton.
If you wish to develop your talents to the fullest and build a fulfilling career, join P&A Grant Thornton, where you will be part of a dynamic...
Fresh Graduates

Fresh Graduates

Students

Whether you are starting your career as a graduate or school leaver, P&A Grant Thornton can give you a flying start. We are ambitious. Take the fact that we're the world's fastest-growing global accountancy organisation. For our people, that means access to a global organisation and the chance to collaborate with more than 40,000 colleagues around the world. And potentially work in different countries and experience other cultures.

Experienced hires

P&A Grant Thornton offers something you can't find anywhere else. This is the opportunity to develop your ideas and thinking while having your efforts recognised from day one. We value the skills and knowledge you bring to Grant Thornton as an experienced professional and look forward to supporting you as you grow you career with our organisation.
If you would like to join Grant Thornton, you may have a few questions about our organisation, how we do business, our culture and our global opportunities....
It has been six months since our Philippine government implemented the Covid-19 pandemic measures on lockdown and various versions of community quarantine within and outside Metro Manila. In those six months, like any other excited couple who had already prepare for almost a year for their wedding, my fiancée and I were devastated when we had to reschedule our church wedding that was supposedly in June 2020.
It may seem to be an uncomplicated decision to reschedule right away because of safety and regulatory reasons. However, once you go back to the drawing board, you realized that there are many factors that need reconsideration. Should we do an intimate wedding instead? How about a civil wedding? Should we totally move it by a year because of the uncertainty? The repercussions of each major decision to make would take from tens to hundreds of considerations to think about while you are always in the middle of your daily endeavors. I may be exaggerating a bit but it was a very difficult position to be in.
Have you ever encountered a similar situation, particularly in your business, when you wished you had more time and space to think critically, either alone or with your business partners? Perhaps there is someone outside your circle whom you want to talk to from a simple sound-off of an idea to as far as getting professional guidance?
This situation is common among family business owners in the Philippines. Addressing the day-to-day demands of owning and running a business makes it more difficult to find sufficient headroom and time for the strategic and other long-term aspirations of the business.
By simple definition, a family business is a for-profit enterprise where two or more family members are involved in the management and governance, and majority ownership or control lies within the family. Structurally speaking, it gets more complicated when we look at a family business using "The Three-Circle Model" (Tagiuri and Davis,1982).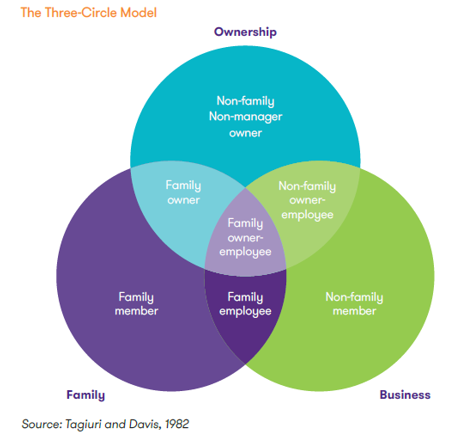 In basic terms, this model clarifies the three interdependent and overlapping groups (i.e., the big circles) that comprise the family business system: family, business and ownership. Since these three circles overlap one another, they create seven interest groups, each with its own interests, motivations and objectives.
For example, a family owner-employee arguably has a lot more to lose than anybody else from the other circles because such individual has interests and/or roles in all three circles. On the other hand, some families would not even allow non-family members to manage the business. Any disagreements within these circles typically result in various problems for the business.
Some of the common business challenges faced by small and medium-sized enterprises (SMEs) are access to market and finance, branding constraints, keeping up and fighting with competition, compliance with regulations, human resources and the overall business operations (Francisco and Canare, Asian Institute of Management, 2017).
When these problems mixed up with issues surrounding familial ties, business and ownership features, the situation could be chaotic. Figuratively, it may seem as if the business stepped right onto a quicksand. You might even begin to wonder if wealth does not pass three generations based on the famous Chinese saying – "Fu Pu Kuo San Tai."
Another aspect for debate is exclusiveness. While some family firms have been dealing with various problems themselves or with limited non-family members' involvement over the last 10 to 20 years, there is a steadily growing number of family firms exploring more help from outside professionals. This is evolving among local family businesses yet more rampant in the global landscape, particularly when family businesses face the challenge of significant changes.
Grant Thornton (GT) Australia, a pioneer of family business practice within the Grant Thornton International Ltd network, notes among others that succession in leadership or owners, period of significant market and/or regulatory change, financing, restructuring, crisis reputation, new business integration, new market, and other significant non-recurring transactions are some of the common triggers in making room for changes in the business. Formally, GT Australia developed and called this approach as the Owner's Room (the Room).
The Room is a critical thinking space for business owners where conversations with outside professionals, regarding core areas on the current business journey, assumptions about the future, goals and timeline, and importance of leadership and bringing clarity to stakeholders. Such Room can be used in any stage of the business life cycle. It can be helpful anywhere during start-up, survival, stable and growth stages of a business. More than the guided conversations and freethinking space in the Room, the knowledge transfer and self-realization could be happening simultaneously.
Overhauling a wedding plan in the midst of a Covid-19 pandemic situation and strategizing for long-term run of a family business are clearly two different circumstances but the context is relatively the same in terms of carrying the joint accountability and reflecting where you are, where you want to go, and how you get there. We need to "get a room" where we can be "in the zone" and have purposeful conversations with ourselves, together with various stakeholders, professionals, and other collaborators within and outside our circles.
My fiancée and I eventually decided to move our church wedding exactly by a year to 2021 but agreed to have a civil wedding during the latter part of this year. Despite the Covid-19 pandemic ravaging the situation for everyone, we remain optimistic and ambitious about the decisions we made in the "room." We are now fast approaching to our civil wedding while our church wedding details and agreements are locked-in for next year. So to speak, our "room" was big enough for a lot of stakeholders to fit in – particularly our families and wedding suppliers.
Endel Mata is a Partner of the Audit and Assurance Division of P&A Grant Thornton. P&A Grant Thornton is one of the leading audit, tax, advisory, and outsourcing firms in the Philippines with 24 Partners and more than 900 staff members. We'd like to hear from you! Tweet us: @GrantThorntonPH, like us on Facebook: P&A Grant Thornton, and email your comments to anton.ng@ph.gt.com or pagrantthornton@ph.gt.com. For more information, visit our website: www.grantthornton.com.ph
As published in The Manila Times, dated 23 September 2020