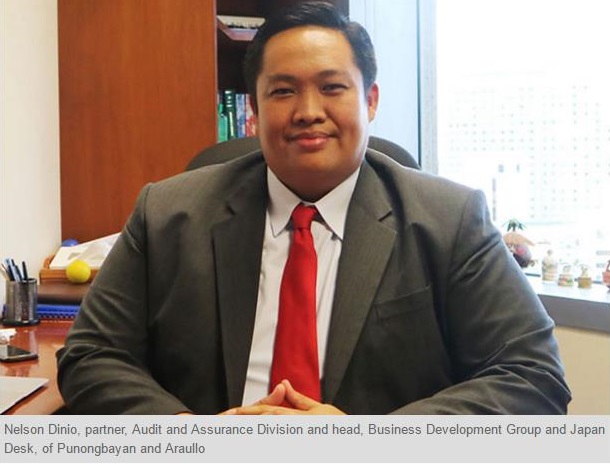 MANILA, Philippines - Who was it who said, "If you want an ordered life, marry an accountant"?
An accountant's work generally follows a certain seasonality, where the first quarter of the year — which is tax season — is the busiest. But it would be a mistake to think that there is nothing left for them to do the rest of the year.
"We do audit, advisory, and outsourcing such as payroll processing and other accounting services for our clients," says Nelson Dinio of P & A (Punongbayan and Araullo), the Philippine member firm of Grant Thornton International.
Dinio is a partner in the Audit and Assurance Division and heads P&A's Business Development Group. He also heads the firm's Japan desk and is the partner-in-charge of the Calabarzon operations.
Whether it's tax season or not, Dinio strictly follows a daily routine. He wakes up at 4 a.m. and starts work in the quiet of the early hours, answering clients' email that he received the night before "so the client has a reply ready when they get to the office," he explains.
He leaves his house in Cavite at 6 a.m. and is at the office in Makati by 7. He gets the more demanding part of his work done during his peak hours in the morning, so what's left in the afternoon are routine matters. He makes sure his desk is clear when he leaves the office at 4:30 p.m. so he is home in time for dinner with his family at 6. He is in bed by 9 p.m.
He promotes a work-life balance even among his staff: "I tell them, if you do your work for eight hours, there is no need for overtime. If you sleep well for eight hours, when you wake up, your mind is fresh and you will be more efficient." He is results-oriented, saying, "You have to trust your staff."
"I recommend a routine that is consistent, because otherwise, it's just stressful," Dinio says. He does not believe in making his staff work overtime even during tax season, when fatigue due to lack of sleep can result in costly errors.
"If you have 150 clients, for example, they all have just one deadline for filing their tax return on April 15. In my mind, meeting the deadline is very basic, as well as ensuring the accuracy of the report. There is no room for material error. You can be sued for making a wrong report and it can damage your reputation. That is why it is so important to give the staff proper training. Once the client is satisfied with your service, they will refer you to other clients."
Dinio graduated with a bachelor's degree in accounting, magna cum laude, from Holy Angel University in Angeles, Pampanga. He joined P & A as junior staff shortly after he passed the CPA board exams with the third highest overall rating in 1998. He was seconded in the Grant Thornton office in Los Angeles where he spent two years, and obtained his US CPA license in 2005. He received his master's in management with a clean pass rating for his thesis from AIM.
He was asked to head the Japan desk in charge of the Calabarzon operations after its Japanese director retired in 2012. It was difficult at the start since he did not have a Japanese staff. He now has four Japanese expats on his team. He was able to grow the business from five percent of the firm's total revenue to 10 percent within the span of four years.
"We started with 90 Japanese clients; now we have 230,"Dinio says. "These are Japanese companies all based in the Philippines."
They have also given seminars to general managers of companies in Japan — in Tokyo in 2013 and in Osaka in 2015 — "for them to better understand doing business in the Philippines, and so they get to know about us even before they come to start their business here."
Dinio was the lead partner of the special teams that won the 2015 and 2014 Founder's Award, the highest form of recognition for team excellence in P & A. He was a support partner when his team won the same award in 2016. In 2009, he received the Primus Award, the highest form of recognition of individual excellence at P & A.
He admits that his first two years at P & A were a struggle: "I was not really planning to take up accounting. I am an entrepreneur at heart. But my father told me that I should have something to fall back on in case my business failed."
As a young boy in Angeles, he delivered soft drinks to sari-sari stores. He raised quails and supplied quail eggs to balut vendors. He sold banana-cue to factory workers in his neighborhood.
"I sold halo-halo in the summer and arroz caldo during the rainy season," he relates. "I just wanted to have my own money and not have to rely on my parents."
These days, it is his wife Chona who is the entrepreneur in the family. Also a CPA, he asked her to quit her job so she could have time to take care of their kids: Hans, 13, and Hannah, seven. A good cook being Kapampangan, Chona started her own small food business, Hannah's Kitchen, as well as a franchise of the Japanese fast food Samurai in Eastwood.
Dinio attributes his success to the support of his wife. "I think if you are happy, you will be successful. But even if you are successful, you may not necessarily be happy," he says. "The stress at work will be there, but you need to protect something, which is your time."
As published in Philippine Star, dated on 15 May 2017