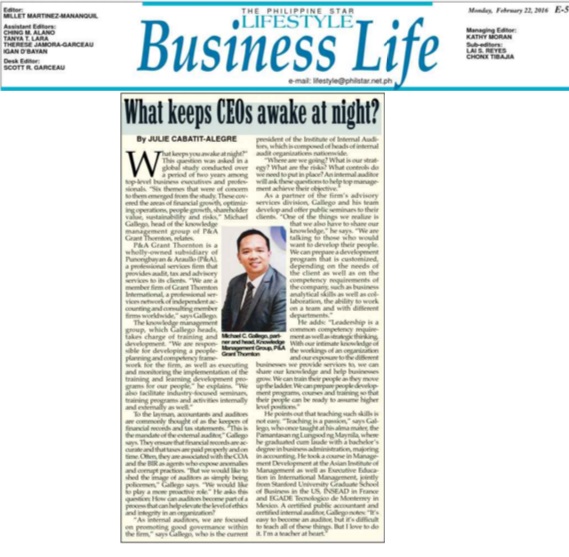 MANILA, Philippines – What keeps you awake at night?" This question was asked in a global study conducted over a period of two years among top-level business executives and professionals. "Six themes that were of concern to them emerged from the study. These covered the areas of financial growth, optimizing operations, people growth, shareholder value, sustainability and risks," Michael Gallego, head of the knowledge management group of P&A Grant Thornton, relates.
P&A Grant Thornton is a wholly-owned subsidiary of Punongbayan & Araullo (P&A), a professional services firm that provides audit, tax and advisory services to its clients. "We are a member firm of Grant Thornton International, a professional services network of independent accounting and consulting member firms worldwide," says Gallego.
The knowledge management group, which Gallego heads, takes charge of training and development. "We are responsible for developing a people-planning and competency framework for the firm, as well as executing and monitoring the implementation of the training and learning development programs for our people," he explains. "We also facilitate industry-focused seminars, training programs and activities internally and externally as well."
To the layman, accountants and auditors are commonly thought of as the keepers of financial records and tax statements. "This is the mandate of the external auditor," Gallego says. They ensure that financial records are accurate and that taxes are paid properly and on time. Often, they are associated with the COA and the BIR as agents who expose anomalies and corrupt practices. "But we would like to shed the image of auditors as simply being policemen," Gallego says. "We would like to play a more proactive role." He asks this question: How can auditors become part of a process that can help elevate the level of ethics and integrity in an organization?
"As internal auditors, we are focused on promoting good governance within the firm," says Gallego, who is the current president of the Institute of Internal Auditors, which is composed of heads of internal audit organizations nationwide.
"Where are we going? What is our strategy? What are the risks? What controls do we need to put in place? An internal auditor will ask these questions to help top management achieve their objective."
As a partner of the firm's advisory services division, Gallego and his team develop and offer public seminars to their clients. "One of the things we realize is that we also have to share our knowledge," he says. "We are talking to those who would want to develop their people. We can prepare a development program that is customized, depending on the needs of the client as well as on the competency requirements of the company, such as business analytical skills as well as collaboration, the ability to work on a team and with different departments."He adds: "Leadership is a common competency requirement as well as strategic thinking. With our intimate knowledge of the workings of an organization and our exposure to the different businesses we provide services to, we can share our knowledge and help businesses grow. We can train their people as they move up the ladder. We can prepare people development programs, courses and training so that their people can be ready to assume higher level positions."
He points out that teaching such skills is not easy. "Teaching is a passion," says Gallego, who once taught at his alma mater, the Pamantasan ng Lungsod ng Maynila, where he graduated cum laude with a bachelor's degree in business administration, majoring in accounting. He took a course in Management Development at the Asian Institute of Management as well as Executive Education in International Management, jointly from Stanford University Graduate School of Business in the US, INSEAD in France and EGADE Tecnologico de Monterrey in Mexico. A certified public accountant and certified internal auditor, Gallego notes: "It's easy to become an auditor, but it's difficult to teach all of these things. But I love to do it. I'm a teacher at heart."
As published in The Philippine Star dated 22 February 2016 by Julie Cabatit-Alegre