"By awarding top model cities, we not only reward the winners for their relentless efforts to make their cities, and their people, progressive, we also want to inspire the rest of the cities to become the best that they can be."
This is what The Manila Times' President and Executive Editor Dante Ang 2nd clearly pointed out during his welcome address in the Philippine Model Cities Forum and Awards held at New World Manila Bay Hotel on May 11.
For the first time, The Manila Times awarded 13 model cities with Bacolod City as the
the country's most livable urban center. Other cities recognized for viability and excellence in specific areas were Santa Rosa City, Batangas City, San Fernando City Pampanga, Tagaytay City, Parañaque City, Quezon City, Zamboanga City, Mandaluyong City, Naga City, General Santos City, Laoag City and Davao City.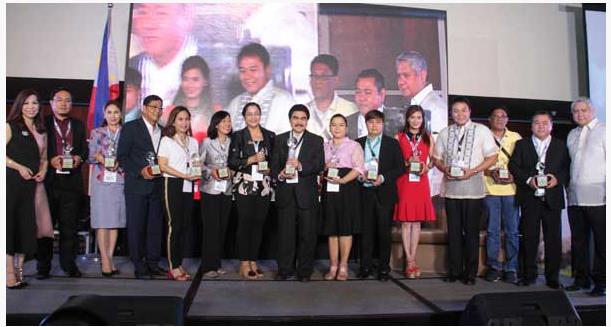 The Manila Times President and CEO Dante Francis 'Klink' Ang 2nd (extreme right) and COO Blanca Mercado (extreme left) pose together with The Philippine Model Cities: Beyond the Most Liveable Urban Centers winners – Bacolod City Mayor Evelio Leonardia (center) and special awardees Nunungan, Lanao de Norte Mayor Marcos Mamay, Marco Polo Davao General Manager Dottie Wurgler-Cronin for Davao City, San Fernando, Pampanga Mayor Edwin Santiago, Batangas City Mayor Beverly Rose Dimacuha, Zamboanga City Mayor Isabel Climaco, Mandaluyong City Mayor Carmelita Abalos, General Santos Vice Mayor Shirlyn Nograles, Santa Rosa City Administrator Manuel Alipon, Laoag City Mayor Chevylle Fariñas, Parañaque City Mayor Edwin Olivarez, Tagaytay City Planning Officer Carlos Zuñiga and Naga City Mayor John Bongat.
Meanwhile, a special recognition was given to the Municipality of Nunungan, Lanao del Norte, which is considered an emerging hub from the south. (Related stories on Pages 2 to 6)
"The 'Philippine Model Cities' aims to recognize effective and innovative local governance that improves the quality of life, make local business environments friendlier, and overall makes this country a great place to live," Ang said.
By gathering experts on environment, business economics and urban planning who discussed the bigger picture of what makes the cities tick, the forum successfully tackled various topics.
Felino Palafox Jr. presented "Cities of the Future: The Philippines at 500, 2021 and Beyond." The famous architect and one of the most well-read columnists of The Manila Times recalled what the Philippine cities looked like in the past, what the country is undergoing and the possible transformation the country would be experiencing by 2021 and beyond. He also injected some personal accounts on his studies and recommendations to the government on how to achieve the development.
"One of our advocacies at Palafox Associates is to develop Philippine cities for the next 100 years," said Palafox who had been in more 1,000 cities around the world because of his profession. He pointed out that integrated and open developments are the key to sustainable future for the Philippines.
For his part, World Bank Sustainable Development for the Philippines program leader Vickram Cuttaree challenged leaders of cities to be more competitive but sustainable in his presentation titled "Competitive, Inclusive and Sustainable Cities."
He particularly challenged the country's policymakers to enable cities to be more competitive as urbanization is deemed important for progress and poverty alleviation.
Cuttaree pointed out that urbanization has been driving national productivity growth over time. "Between 2000 and 2010, for every one percent increase in urban land, there was a corresponding increase of about 11 percent in national productivity," he said.
But Cuttaree warned, "If urbanization is not managed well, it can give rise to inequality and exclusion that can derail the development process. Challenges such as economic, spatial and social exclusion will ultimately affect opportunities for city residents."
Meanwhile, P&A Grant Thornton Tax Advisory and Compliance Division Head Eleanor Roque revealed some anomalies and difficulties in the process of business registration and tax payment in the country, as she also discussed current efforts being done by various local government units in implementing one-stop shop program to ease business processes.
On the other hand, KMC MAG Group Managing Director Michael McCullough talked about the inspiring "Manila Green Building Trends and Market Outlook."
In general, speakers of the forum encouraged the 13 chosen cities to be an inspiration to other megalopolis in the country to become the most livable urban centers in the country.
As published in The Manila Times, dated on 17 May 2017