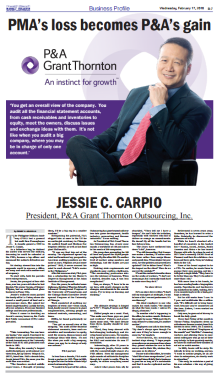 The Philippine Military Academy (PMA) lost a general but audit firm Punongbayan & Araullo gained a President in Jessie C. Carpio.
As a fatherless boy, he idolized his uncles who served the military, dreaming he could be schooled at the PMA, become a top officer and command the nation's defenders one day.
Yet destiny steered him into the corporate world to oversee a different army and work with another sort of weaponry.
To start with, both his parents were entrepreneurs.
Jessie, the youngest of four children, was two years old when he lost his dad. The senior Carpio, a Chinese-Filipino, had an architectural glass business in Pasay City.
Jessie's widowed mom packed the family off to La Union, where she owned a small parcel of land and a convenience store. She raised her brood single-handed. Luckily for her, all were scholars. Everyone finished college and became professionals.
When it came to deciding on Jessie's career, however, his Certified Public Accountant (CPA) sister prevailed.
ACCOUNTING
"Take Accounting. You can have my books," she urged. Convinced he shouldn't waste her precious volumes, he took Accountancy at the University of the East (UE) and graduated cum laude in 1983.
Soon after, the country's largest multi-disciplinary professional services firm, SyCip Gorres Velayo & Co. (SGV), hired him. Half a decade later, Jessie joined P&A, the same year the audit firm was created.
"The founders needed middle supervisors. I thought of joining them, I'll be a big cog in a smaller machine."
Recognizing his potential, P&A shipped him at once to the US for an on-the-job residency in Chicago. He audited Small and Medium Enterprises (SMEs) as well as fast food giant McDonald's.
"It was my first trip out of the country. The experience opened my mind and broadened my perspective. American auditing practices are the same as ours. Filipinos are just more patient." Still, it never crossed his mind to work abroad. "Life's easier in the Philippines."
After his overseas stint, P&A gave him a scholarship for his Master's Degree in Management at the Asian Institute of Management.
Over the years, he collected more diplomas, finishing Wharton School's Advanced Management Program at the University of Pennsylvania and the Chicago Booth Executive Development Program at the University of Chicago.
Work consisted of auditing enterprises of every size – from small, local, family-owned ventures to giant conglomerates, advising people on internal controls, accounting, and taxes.
SMEs, he found particularly interesting.
"You get an overall view of the company. You audit all the financial statement accounts, from cash receivables and inventories to equity, meet the owners, discuss issues and exchange ideas with them. It's not like when you audit a big company, where you may be in charge of only one account."
P&A PARTNER
In less than a decade, P&A made Jessie a partner in 1997. Then in 2009, he opted to take the helm of their fully-owned outsourcing firm.
"I wanted to be part of the action. Outsourcing has gone beyond call centers into game development, health industry, accounting and finance industries." It was exciting.
As President of P&A Grant Thornton Outsourcing, Inc. Jessie commands a workforce of 160 and caters to the needs of 300 companies.
His group does accounting for 100 of them and payroll for 53,000 people employed by the other 200. It's another level of warfare using numbers and technology. And the stakes are just as high.
Evolving state requirements and standards pose endless challenges. "The accounting profession mirrors the intricacy of business. When I started, decades ago, it was less complicated."
Now, as always, "I have to be on my toes, with yearly changes on the changes, amendments to the amendments. I've to keep on learning and studying."
3 PS
His ultimate strategy is hinged on "3 Ps" – People, Process and Platforms.
Skilled people are a must. First, "You make sure these guys are good and resilient." Policies and procedures come next. "We don't deviate from them. Quality should be consistent."
Third, they keep abreast with fast-changing technology and develop home-grown ones. No wonder, P&A spends hundreds of millions for R&D and maintains its own IT committee.
Interestingly, after 33 years in the corporate jungle, Jessie walks with the ramrod-straight stance of a PMA officer. Even his management style smacks of militaristic discipline though he's quick to smile. When he speaks, he makes everything sound easy.
Asked what pisses him off, he chuckled. "They tell me I have a temper." He can't hide his irritation, especially with workers who fail to deliver or renege on commitments. He doesn't fly off the handle but his face betrays him.
The years have mellowed him down "a bit", however.
"I'm still demanding. But if someone makes a booboo, I'd rather solve the issue rather than assign blame and punish him. I'll scrutinize the process. Are the policies and procedures updated? Did he follow them? What's the impact on the client? How do we correct the mistake?"
It's not his custom to breathe down on the necks of workers. "I don't micromanage. But I normally crack hard to make sure they do it."
NO SLAVE DRIVER
He's no slave driver either. "I don't call my managers at midnight. I want to have a life. I reward performers. It's meritocracy."
His ideal employee is one who makes his work easier. "He should do what the boss wants – unless it's illegal, of course."
To monitor what's happening in the office, he makes rounds. He knows his people by name. "With just 160, it's easy. If they're a thousand, it's another matter."
Employees can talk to him freely. "My door's always open though I'm not sure if they're brave enough to come in," he laughed.
Nevertheless, his mentoring instinct stays strong. "I hope people remember me as someone from whom they gained wisdom for use in their career and in their life, wisdom they can pass on to others."
On one wall of his office, he wrote: "shelf life of core competencies", as if to remind himself daily that a business is good for as long as it's sustainable and that it can be replicated and improved.
Retirement is seven years away. Somehow, he has learned to relax a little. Belatedly, he discovered the pleasures of travel.
While he hasn't checked off a handful of countries in his bucket list – Russia, Israel, Jordan, South America and Africa – he has toured Europe with wife Jo, whom he met at SGV (she's currently DKSH Head of Finance) and their five children – two boys and three girls. Next, he's taking them to the U.S.
None of his brood aspired to be a CPA. No matter, he wants them to pursue their own passion, not his – with just a single hitch. "They have to be better than me. They've to achieve more than I did."
With more time in his hands, he has been reading books – biographies mostly. Paperbacks and hardcovers lay stacked on his table, waiting. He's even considering to write a book, perhaps a column.
But he still works from 7 a.m. to 7 p.m. and multi-tasks like a millennial. "It's difficult not to bring home work because you're connected all the time. Before, I even worked on weekends."
Only now, he goes out of his way to break the daily grind.
Every last Friday of the month is Theme Friday. Employees dress up with chosen themes in mind, from Halloween to circa 1990's. It's a carnival.
He also instituted "Employees of the month" and "Idol Kita" – honoring workers and allowing them to commend colleagues who go out of their way to help. In their quarterly socials, he takes his staff and their families to eat out or watch movies.
In 2023, Jessie will be sixty. He intends to keep on working, anyway. "I want to mentor people, be an adviser to enterprises, do charity work in education."
This early, he maintains a pool of his own scholars – his way of giving back.
As published in Manila Bulletin and https://technoladyinmanila.wordpress.com dated 18 February 2016