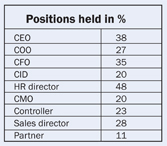 The Philippines has the most women in senior management among 29 countries.
The Women in Business report of Grant Thornton International Business Report 2021 covered 29 economies.
The report said the proportion of women in senior leadership positions in mid-market businesses in the Philippines is 48 percent, the highest in the past 10 IBRs , and 17-percentage points higher than the 31 percent global average.
The Philippines was number one for the second consecutive year
The figure continuously increased in the previous two years. It also passes by a wide margin the important 30 percent threshold, which research shows is the minimum representation needed to change decision-making processes.
The research also shows higher numbers of women across operational C-suite roles in the Philippines compared to last year, with the proportion of female chief executive officers/managing directors up 16 percentage points to 38 percent and female chief operating officers up four percentage points to 27 percent.
The proportion of female chief financial officers was down three percentage points to 35 percent. The proportion of women in the more traditional senior HR roles was up 12 percentage points at 48 percent.
Forty-two percent of the respondents agree new working practices as a result of COVID-19 will benefit women's career trajectories long-term. Questions remain over the impact of the COVID-19 pandemic on women, particularly working mothers.
The survey was conducted October to December 2020 with chief executive officers, managing directors, chairperson or other senior executives in 100 mid-market businesses from all industry sectors.
As published in Malaya Business Insight, dated 23 February 2021