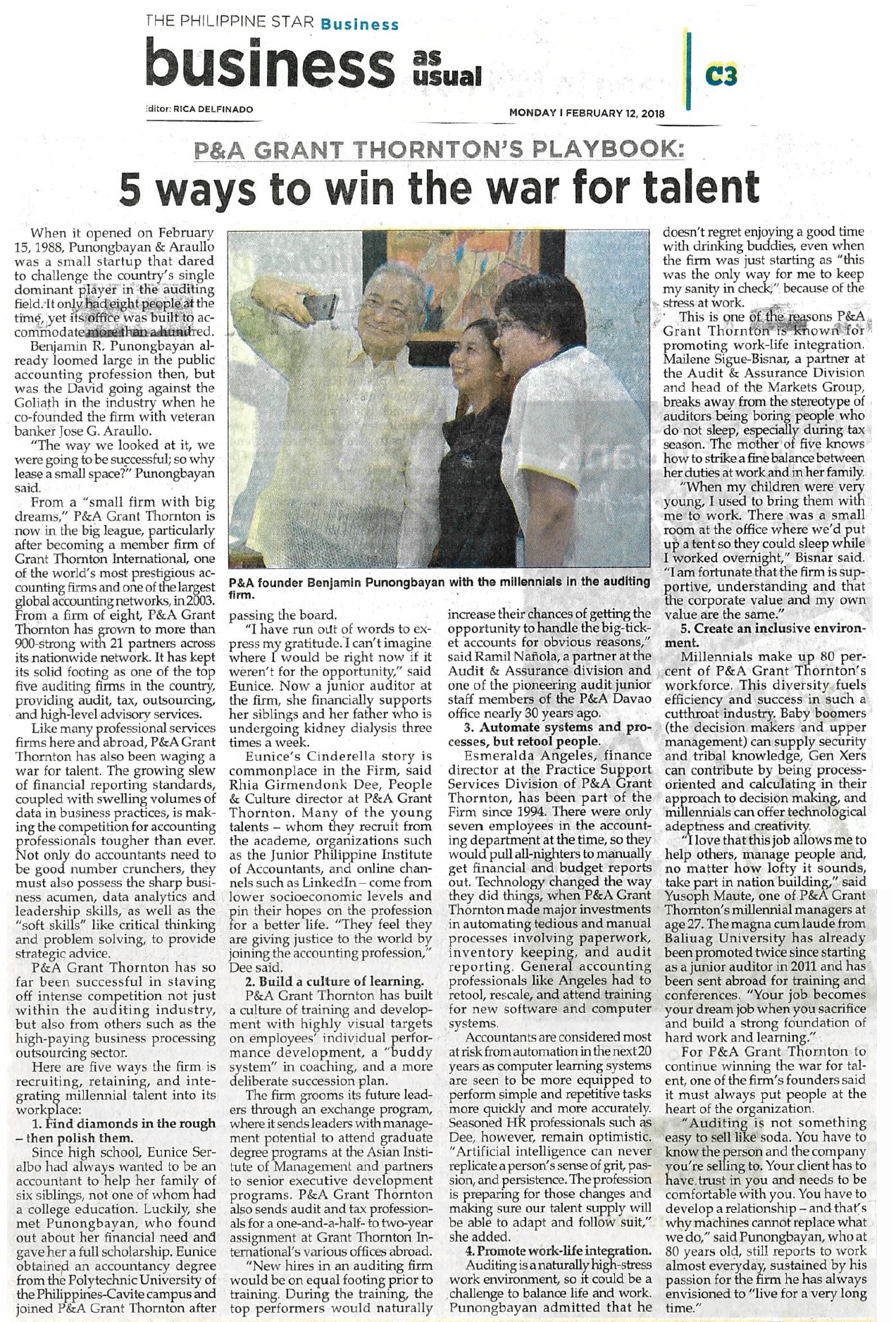 P&A founder Benjamin Punongbayan with the millennials in the auditing firm.
When it opened on February 15, 1988, Punongbayan & Araullo was a small startup that dared to challenge the country's single dominant player in the auditing field. It only had eight people at the time, yet its office was built to accommodate more than a hundred.
Benjamin R. Punongbayan already loomed large in the public accounting profession then, but was the David going against the Goliath in the industry when he co-founded the firm with veteran banker Jose G. Araullo.
"The way we looked at it, we were going to be successful; so why lease a small space?" Punongbayan said.
From a "small firm with big dreams," P&A Grant Thornton is now in the big league, particularly after becoming a member firm of Grant Thornton International, one of the world's most prestigious accounting firms and one of the largest global accounting networks, in 2003. From a firm of eight, P&A Grant Thornton has grown to more than 900-strong with 21 partners across its nationwide network. It has kept its solid footing as one of the top five auditing firms in the country, providing audit, tax, outsourcing, and high-level advisory services.
Like many professional services firms here and abroad, P&A Grant Thornton has also been waging a war for talent. The growing slew of financial reporting standards, coupled with swelling volumes of data in business practices, is making the competition for accounting professionals tougher than ever. Not only do accountants need to be good number crunchers, they must also possess the sharp business acumen, data analytics and leadership skills, as well as the "soft skills" like critical thinking and problem solving, to provide strategic advice.
P&A Grant Thornton has so far been successful in staving off intense competition not just within the auditing industry, but also from others such as the high-paying business processing outsourcing sector.
Here are five ways the firm is recruiting, retaining, and integrating millennial talent into its workplace:
1. Find diamonds in the rough – then polish them.
Since high school, Eunice Seralbo had always wanted to be an accountant to help her family of six siblings, not one of whom had a college education. Luckily, she met Punongbayan, who found out about her financial need and gave her a full scholarship. Eunice obtained an accountancy degree from the Polytechnic University of the Philippines-Cavite campus and joined P&A Grant Thornton after passing the board.
"I have run out of words to express my gratitude. I can't imagine where I would be right now if it weren't for the opportunity," said Eunice. Now a junior auditor at the firm, she financially supports her siblings and her father who is undergoing kidney dialysis three times a week.
Eunice's Cinderella story is commonplace in the Firm, said Rhia Girmendonk Dee, People & Culture director at P&A Grant Thornton. Many of the young talents – whom they recruit from the academe, organizations such as the Junior Philippine Institute of Accountants, and online channels such as LinkedIn – come from lower socioeconomic levels and pin their hopes on the profession for a better life. "They feel they are giving justice to the world by joining the accounting profession," Dee said.
2. Build a culture of learning.
P&A Grant Thornton has built a culture of training and development with highly visual targets on employees' individual performance development, a "buddy system" in coaching, and a more deliberate succession plan.
The firm grooms its future leaders through an exchange program, where it sends leaders with management potential to attend graduate degree programs at the Asian Institute of Management and partners to senior executive development programs. P&A Grant Thornton also sends audit and tax professionals for a one-and-a-half- to two-year assignment at Grant Thornton International's various offices abroad.
"New hires in an auditing firm would be on equal footing prior to training. During the training, the top performers would naturally increase their chances of getting the opportunity to handle the big-ticket accounts for obvious reasons," said Ramil Nañola, a partner at the Audit & Assurance division and one of the pioneering audit junior staff members of the P&A Davao office nearly 30 years ago.
3. Automate systems and processes, but retool people.
Esmeralda Angeles, finance director at the Practice Support Services Division of P&A Grant Thornton, has been part of the Firm since 1994. There were only seven employees in the accounting department at the time, so they would pull all-nighters to manually get financial and budget reports out. Technology changed the way they did things, when P&A Grant Thornton made major investments in automating tedious and manual processes involving paperwork, inventory keeping, and audit reporting. General accounting professionals like Angeles had to retool, rescale, and attend training for new software and computer systems.
Accountants are considered most at risk from automation in the next 20 years as computer learning systems are seen to be more equipped to perform simple and repetitive tasks more quickly and more accurately. Seasoned HR professionals such as Dee, however, remain optimistic. "Artificial intelligence can never replicate a person's sense of grit, passion, and persistence. The profession is preparing for those changes and making sure our talent supply will be able to adapt and follow suit," she added. 4. Promote work-life integration.
Auditing is a naturally high-stress work environment, so it could be a challenge to balance life and work. Punongbayan admitted that he doesn't regret enjoying a good time with drinking buddies, even when the firm was just starting as "this was the only way for me to keep my sanity in check," because of the stress at work.
This is one of the reasons P&A Grant Thornton is known for promoting work-life integration. Mailene Sigue-Bisnar, a partner at the Audit & Assurance Division and head of the Markets Group, breaks away from the stereotype of auditors being boring people who do not sleep, especially during tax season. The mother of five knows how to strike a fine balance between her duties at work and in her family.
"When my children were very young, I used to bring them with me to work. There was a small room at the office where we'd put up a tent so they could sleep while I worked overnight," Bisnar said. "I am fortunate that the firm is supportive, understanding and that the corporate value and my own value are the same."
5. Create an inclusive environment.
Millennials make up 80 percent of P&A Grant Thornton's workforce. This diversity fuels efficiency and success in such a cutthroat industry. Baby boomers (the decision makers and upper management) can supply security and tribal knowledge, Gen Xers can contribute by being processoriented and calculating in their approach to decision making, and millennials can offer technological adeptness and creativity.
"I love that this job allows me to help others, manage people and, no matter how lofty it sounds, take part in nation building," said Yusoph Maute, one of P&A Grant Thornton's millennial managers at age 27. The magna cum laude from Baliuag University has already been promoted twice since starting as a junior auditor in 2011 and has been sent abroad for training and conferences. "Your job becomes your dream job when you sacrifice and build a strong foundation of hard work and learning."
For P&A Grant Thornton to continue winning the war for talent, one of the firm's founders said it must always put people at the heart of the organization.
"Auditing is not something easy to sell like soda. You have to know the person and the company you're selling to. Your client has to have trust in you and needs to be comfortable with you. You have to develop a relationship – and that's why machines cannot replace what we do," said Punongbayan, who at 80 years old, still reports to work almost everyday, sustained by his passion for the firm he has always envisioned to "live for a very long time."
As published in Philippine Star, dated 12 February 2018