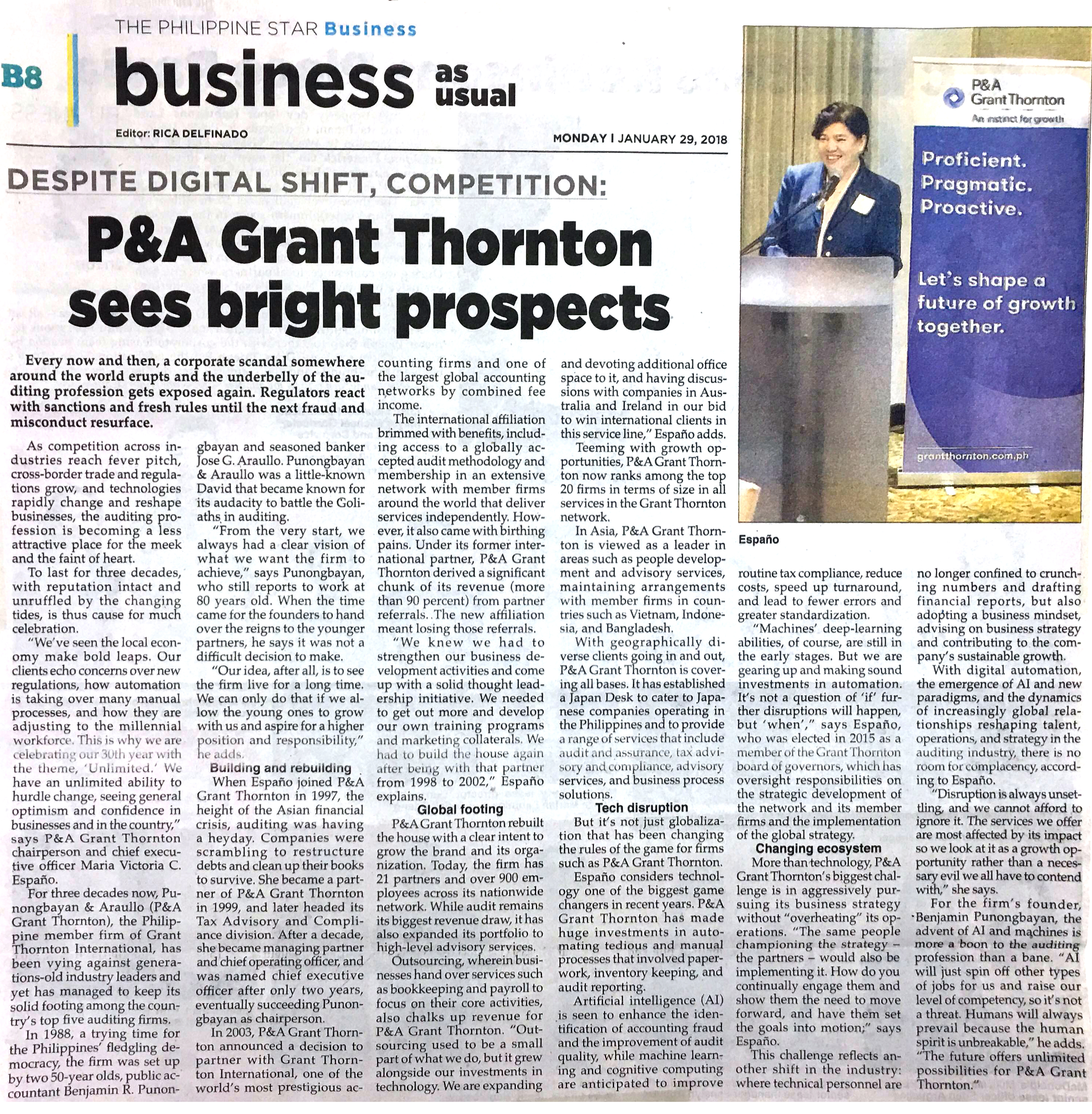 Every now and then, a corporate scandal somewhere around the world erupts and the underbelly of the auditing profession gets exposed again. Regulators react with sanctions and fresh rules until the next fraud and misconduct resurface.
As competition across industries reach fever pitch, cross-border trade and regulations grow, and technologies rapidly change and reshape businesses, the auditing profession is becoming a less attractive place for the meek and the faint of heart.
To last for three decades, with reputation intact and unruffled by the changing tides, is thus cause for much celebration.
"We've seen the local economy make bold leaps. Our clients echo concerns over new regulations, how automation is taking over many manual processes, and how they are adjusting to the millennial workforce. This is why we are celebrating our 30th year with the theme, 'Unlimited.' We have an unlimited ability to hurdle change, seeing general optimism and confidence in businesses and in the country," says P&A Grant Thornton chairperson and chief executive officer Maria Victoria C. Españo.
For three decades now, Punongbayan & Araullo (P&A Grant Thornton), the Philippine member firm of Grant Thornton International, has been vying against generations-old industry leaders and yet has managed to keep its solid footing among the country's top five auditing firms.
In 1988, a trying time for the Philippines' fledgling democracy, the firm was set up by two 50-year olds, public accountant Benjamin R. Punongbayan and seasoned banker Jose G. Araullo. Punongbayan & Araullo was a little-known David that became known for its audacity to battle the Goliaths in auditing.
"From the very start, we always had a clear vision of what we want the firm to achieve," says Punongbayan, who still reports to work at 80 years old. When the time came for the founders to hand over the reigns to the younger partners, he says it was not a difficult decision to make.
"Our idea, after all, is to see the firm live for a long time. We can only do that if we allow the young ones to grow with us and aspire for a higher position and responsibility," he adds.
Building and rebuilding
When Españo joined P&A Grant Thornton in 1997, the height of the Asian financial crisis, auditing was having a heyday. Companies were scrambling to restructure debts and clean up their books to survive. She became a partner of P&A Grant Thornton in 1999, and later headed its Tax Advisory and Compliance division. After a decade, she became managing partner and chief operating officer, and was named chief executive officer after only two years, eventually succeeding Punongbayan as chairperson.
In 2003, P&A Grant Thornton announced a decision to partner with Grant Thornton International, one of the world's most prestigious ac- counting firms and one of the largest global accounting networks by combined fee income.
The international affiliation brimmed with benefits, including access to a globally accepted audit methodology and membership in an extensive network with member firms around the world that deliver services independently. However, it also came with birthing pains. Under its former international partner, P&A Grant Thornton derived a significant chunk of its revenue (more than 90 percent) from partner referrals. The new affiliation meant losing those referrals.
"We knew we had to strengthen our business development activities and come up with a solid thought leadership initiative. We needed to get out more and develop our own training programs and marketing collaterals. We had to build the house again after being with that partner from 1998 to 2002," Españo explains.
Global footing
P&A Grant Thornton rebuilt the house with a clear intent to grow the brand and its organization. Today, the firm has 21 partners and over 900 employees across its nationwide network. While audit remains its biggest revenue draw, it has also expanded its portfolio to high-level advisory services.
Outsourcing, wherein businesses hand over services such as bookkeeping and payroll to focus on their core activities, also chalks up revenue for P&A Grant Thornton. "Outsourcing used to be a small part of what we do, but it grew alongside our investments in technology. We are expanding and devoting additional office space to it, and having discussions with companies in Australia and Ireland in our bid to win international clients in this service line," Españo adds.
Teeming with growth opportunities, P&A Grant Thornton now ranks among the top 20 firms in terms of size in all services in the Grant Thornton network.
In Asia, P&A Grant Thornton is viewed as a leader in areas such as people development and advisory services, maintaining arrangements with member firms in countries such as Vietnam, Indonesia, and Bangladesh.
With geographically diverse clients going in and out, P&A Grant Thornton is covering all bases. It has established a Japan Desk to cater to Japanese companies operating in the Philippines and to provide a range of services that include audit and assurance, tax advisory and compliance, advisory services, and business process solutions.
Tech disruption
But it's not just globalization that has been changing the rules of the game for firms such as P&A Grant Thornton.
Españo considers technology one of the biggest game changers in recent years. P&A Grant Thornton has made huge investments in automating tedious and manual processes that involved paperwork, inventory keeping, and audit reporting.
Artificial intelligence (AI) is seen to enhance the identification of accounting fraud and the improvement of audit quality, while machine learning and cognitive computing are anticipated to improve routine tax compliance, reduce costs, speed up turnaround, and lead to fewer errors and greater standardization.
"Machines' deep-learning abilities, of course, are still in the early stages. But we are gearing up and making sound investments in automation. It's not a question of 'if' further disruptions will happen, but 'when'," says Españo, who was elected in 2015 as a member of the Grant Thornton board of governors, which has oversight responsibilities on the strategic development of the network and its member firms and the implementation of the global strategy.
Changing ecosystem
More than technology, P&A Grant Thornton's biggest challenge is in aggressively pursuing its business strategy without "overheating" its operations. "The same people championing the strategy – the partners – would also be implementing it. How do you continually engage them and show them the need to move forward, and have them set the goals into motion;" says Españo.
This challenge reflects another shift in the industry: where technical personnel are no longer confined to crunching numbers and drafting financial reports, but also adopting a business mindset, advising on business strategy and contributing to the company's sustainable growth.
With digital automation, the emergence of AI and new paradigms, and the dynamics of increasingly global relationships reshaping talent, operations, and strategy in the auditing industry, there is no room for complacency, according to Españo.
"Disruption is always unsettling, and we cannot afford to ignore it. The services we offer are most affected by its impact so we look at it as a growth opportunity rather than a necessary evil we all have to contend with," she says.
For the firm's founder, Benjamin Punongbayan, the advent of AI and machines is more a boon to the auditing profession than a bane. "AI will just spin off other types of jobs for us and raise our level of competency, so it's not a threat. Humans will always prevail because the human spirit is unbreakable," he adds. "The future offers unlimited possibilities for P&A Grant Thornton."
As published in Philippine Star, dated 29 January 2018