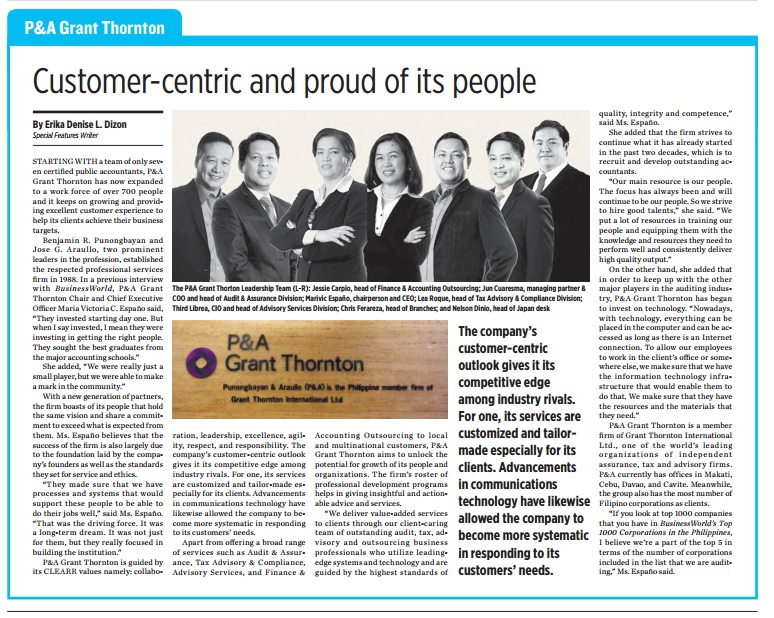 Starting with a team of only seven certified public accountants, P&A Grant Thornton has now expanded to a work force of over 700 people and it keeps on growing and providing excellent customer experience to help its clients achieve their business targets.
Benjamin R. Punongbayan and Jose G. Araullo, two prominent leaders in the profession, established the respected professional services firm in 1988. In a previous interview with BusinessWorld, P&A Grant Thornton Chair and Chief Executive Officer Maria Victoria C. Españo said, "They invested starting day one. But when I say invested, I mean they were investing in getting the right people. They sought the best graduates from the major accounting schools."
She added, "We were really just a small player, but we were able to make a mark in the community."
With a new generation of partners, the firm boasts of its people that hold the same vision and share a commitment to exceed what is expected from them. Ms. Españo believes that the success of the firm is also largely due to the foundation laid by the company's founders as well as the standards they set for service and ethics.
"They made sure that we have processes and systems that would support these people to be able to do their jobs well," said Ms. Españo. "That was the driving force. It was a long-term dream. It was not just for them, but they really focused in building the institution."
P&A Grant Thornton is guided by its CLEARR values namely: collaboration, leadership, excellence, agility, respect, and responsibility. The company's customer-centric outlook gives it its competitive edge among industry rivals. For one, its services are customized and tailor-made especially for its clients. Advancements in communications technology have likewise allowed the company to become more systematic in responding to its customers' needs.
Apart from offering a broad range of services such as Audit & Assurance, Tax Advisory & Compliance, Advisory Services, and Finance & Accounting Outsourcing to local and multinational customers, P&A Grant Thornton aims to unlock the potential for growth of its people and organizations. The firm's roster of professional development programs helps in giving insightful and actionable advice and services.
"We deliver value-added services to clients through our client-caring team of outstanding audit, tax, advisory and outsourcing business professionals who utilize leading-edge systems and technology and are guided by the highest standards of quality, integrity and competence," said Ms. Españo .
She added that the firm strives to continue what it has already started in the past two decades, which is to recruit and develop outstanding accountants.
"Our main resource is our people. The focus has always been and will continue to be our people. So we strive to hire good talents," she said. "We put a lot of resources in training our people and equipping them with the knowledge and resources they need to perform well and consistently deliver high quality output."
On the other hand, she added that in order to keep up with the other major players in the auditing industry, P&A Grant Thornton has began to invest on technology. "Nowadays, with technology, everything can be placed in the computer and can be accessed as long as there is an Internet connection. To allow our employees to work in the client's office or somewhere else, we make sure that we have the information technology infrastructure that would enable them to do that. We make sure that they have the resources and the materials that they need."
P&A Grant Thornton is a member firm of Grant Thornton International Ltd., one of the leading organisations of independent assurance, tax, and advisory firms. P&A Grant Thornton currently has offices in Makati, Cebu, Davao, and Cavite. Meanwhile, the group also has the most number of Filipino corporations as clients.
"If you look at top 1000 companies that you have in BusinessWorld's Top 1000 Corporations in the Philippines, I believe we're a part of the top 5 in terms of the number of corporations included in the list that we are auditing," Ms. Españo said.
As published in Business World dated 20 April 2016