For garnering the highest points across all categories and besting 37 contenders, Bacolod City was named the Top Philippine Model City in the 3rd The Manila Times Philippine Model Cities and Municipalities Awards held Wednesday in Malate, Manila.
The City of Smiles first won the award in 2017. In this year's edition, the city also won the Business Friendly/High Returns Award as well as the Retirement Haven Award. Mayor Evelio Leonardia received the awards along with other officials.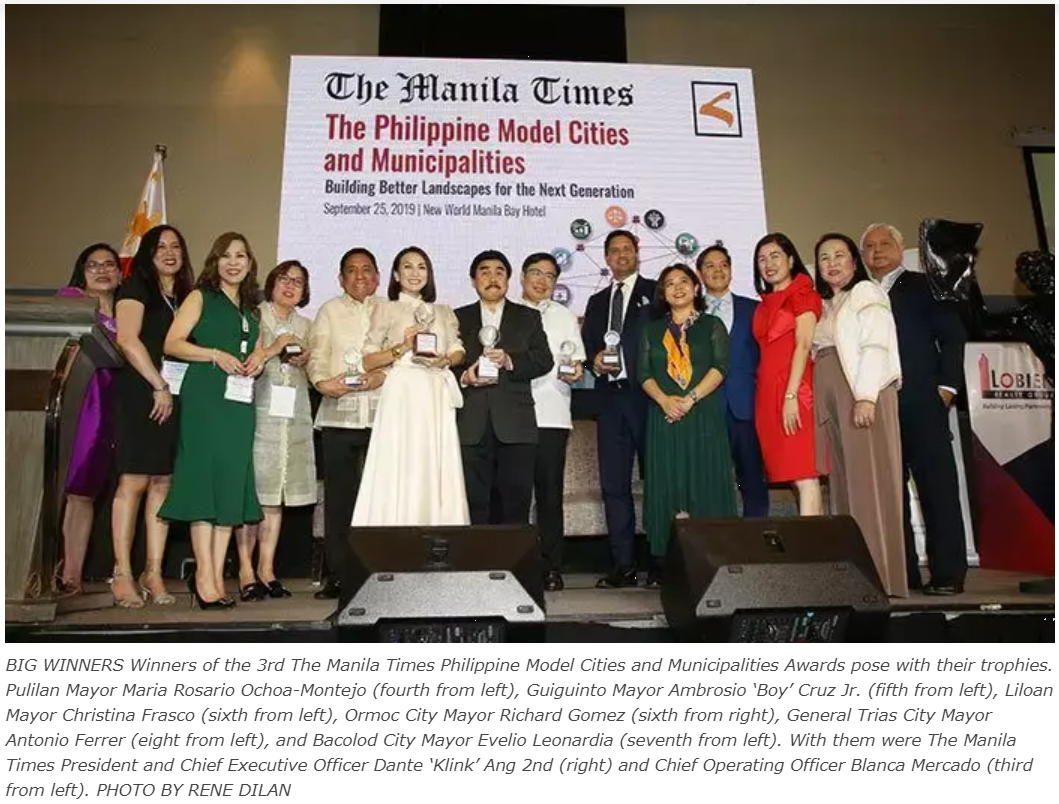 First runner-up was General Trias City, followed by Ormoc City, which also bagged the Concrete Ideas Award.
Meanwhile, Liloan was named Top Philippine Model Municipality. Mayor Christina Frasco led her team in accepting the award. Guiginto was declared first runner-up, and Pulinan was named second runner-up. Mayors Ambrosio Cruz Jr. and Maria Rosario Ochoa-Montejo accepted the awards.
Leonardia said he attended the event without a prepared speech unlike last year when he and his team came all prepared, but did not win. He thanked The Manila Times for the recognition, saying the distinction it got in 2017 hiked business investments in Bacolod by 31 percent.
Other local government units also bagged awards.
The Concrete Ideas Award was given to Kalibo (Aklan) for investing and finishing massive infrastructure projects such as the establishment of a transport terminal, buildings, bridges, public market stalls, an evacuation center, a tourist information center, facilities hall and a health center.
The Mobility Award went to Capas (Tarlac), for its various projects that made transportation easy and accessible to the masses. With a direct mode of transportation to Manila, the town has become more reachable.
Capas also got the Livelihood And Employment Haven Award for its natural resources that serve as the main source of livelihood and income for its residents.
The Education Hub Award was handed to Liloan (Cebu), for setting education as its priority. With the vision of harnessing the power of education to change lives through government support, the town's scholarship program was expanded to include law school, medical school, master's and graduate studies, as well as athletic scholarships. The education program also included the building of schools and distribution of school supplies.
The Green Thumb Award went to Guiguinto (Bulacan), for its active environmental advocacy. Besides its efforts of recycling materials to earn income and weekly clean-up drives, the municipality also launched a program called "Mga Kwento Ni Lolo Boy,"where more than 5,000 children and adults gained knowledge on the importance of environmental management.
A sequel project was called "Basura Busters."Guiguinto also bagged the Business Friendly/High Returns Award for giving recognition to top corporations, single proprietors and barangay (village) with the highest number of registered business establishments.
Pulilan (Bulacan) got the Family Ties Award for its umbrella program called Mom Cares that launched projects for women, children, youth, elderly, solo parents and persons with special needs.
The program also provides counseling and financial assistance to abused and abandoned children, reintegrates street children with their respective families through a network of stakeholders and sponsors, and grants incentives to the youth and senior citizens. It was also handed the Emergency/Disaster Management Award for activating disaster response plan to ensure preparedness during calamities.
Liloan (Cebu) won the Retirement Haven Award for providing a well-rounded, stimulating and joyful approach for its senior citizens. It also bagged the Wealth Center Award for generating revenue through innovative governance.
Meanwhile, the municipality of Nunungan got the Safe Haven Award for settling"rido" or clan feuds through different mechanisms to prevent clashes and bloodshed. For this initiative, the town has received several awards and was recently included in the Top 15 Most Resilient Municipalities in Mindanao, the only municipality in Region 10 to receive such recognition.
Mariveles (Bataan) won the Social Service-Oriented Award for its steadfast efforts in providing public services to residents, specifically in the health and allied categories. Its concept of putting all services under one roof, now known as the Dong In Tulay Rehabilitation Center, offers monthly counseling on the human immunodeficiency virus, nutrition, family planning, dental missions, expanded program on immunization and voluntary blood donation. The program ensures transparency by providing specific timeline of projects with allocated funds and dedicated staff.
Panglao (Bohol) won the Tourism Hub Award for being the cradle of the world-renowned white sandy beaches, diving locations and tourist resorts with hospitable inhabitants.
City winners
Meanwhile, Ormoc City won the Concrete Ideas Award for investing on infrastructure projects. It built numerous covered courts, which also serve as evacuation centers, schools and footbridges in remote villages.
San Pedro City in Laguna bagged the Mobility Award for its projects that make transportation easy and accessible to the masses.
Muntinlupa and Paranaque tied for the Education Hub Award. Muntinlupa has set education as one of its pillars of governance and reforms in bringing back a safer, better and more resilient city.
Its university was the sole recipient of the Free Higher Act in the National Capital Region. Parañaque, on the other hand, was recognized for taking pride in its academic excellence for education and culture, especially for providing financial assistance to students.
The Green Thumb Award went to Zamboanga City for giving priority to the environment with its Cleanest and Greenest Barangay competition.
Calamba City won the Family Ties Award for prioritizing the welfare of all its residents. Its projects include a health center for mentally challenged children, events that celebrate pregnancy and family planning seminars.
San Jose del Monte and Bacolod cities bagged the Business Friendly/High Returns Award. San Jose Del Monte was recognized for its efficiency in making business permits easily secured and for its Business One-Stop-Shop and Negosyo Center that links entrepreneurs and financing agencies. Bacolod was cited for its Business One Stop Shop (BOSS) and for promoting new technologies and capability building programs that provide skills training for its citizens.
The Livelihood and Employment Award went to General Trias City for churning out big numbers of job applicants that were hired though local and overseas job fairs and recruitment activities.
Meanwhile, Bacolod City won the Retirement Haven Award for being one of the most livable retirement destinations acknowledged by the Philippine Retirement Authority.
The Safe Haven Award was given to Davao for its strong programs aimed at improving public safety and security. Its Oplan Bitag Sasakyan that rid the city of car robbers helped it maintain its reputation as a safe place to live in.
Bacoor City won the Emergency Disaster Management Award for its proactive Disaster Risk Reduction and Management Office. The city was the first to establish its owned fully trained incident management team in Calabarzon. It holds inter-barangay rescue olympics, training for the youth and adults. It also has a program for weather and flood monitoring and prepares evacuation areas for its residents.
The Social Service-Oriented Award went to Gapan (Nueva Ecija) and Iligan (Lanao del Norte). Gapan boasts of its impressive array of social services and benefits programs, giving importance to senior citizens through the provision of P700 birthday cash gift with a box of cake and free cinema viewing in omalls; wheelchair for the disabled and monthly rice allowance for public school teachers and non-teaching personnel. It also has its mobile hospital which travels to different villages to provide medical services. Iligan, on the other hand, runs financial assistance program for senior citizens and provides assistive devices to senior citizens and the disabled.
Navotas and Mandaluyong shared the Wealth Center Award. Navotas' revenues continue to increase because of its transparent implementation of infrastructure projects. Mandaluyong, dubbed as the Tiger City, continues to raise its financial capacity through the influx of investments and unwavering efforts in maintaining transparency.
Tagaytay won the Tourism Hub Award for promoting tourism. Recognized as Asia's Most Pleasant City, it consistently launches events and activities in relation to arts and culture.
As published in The Manila Times, dated 26 September 2020