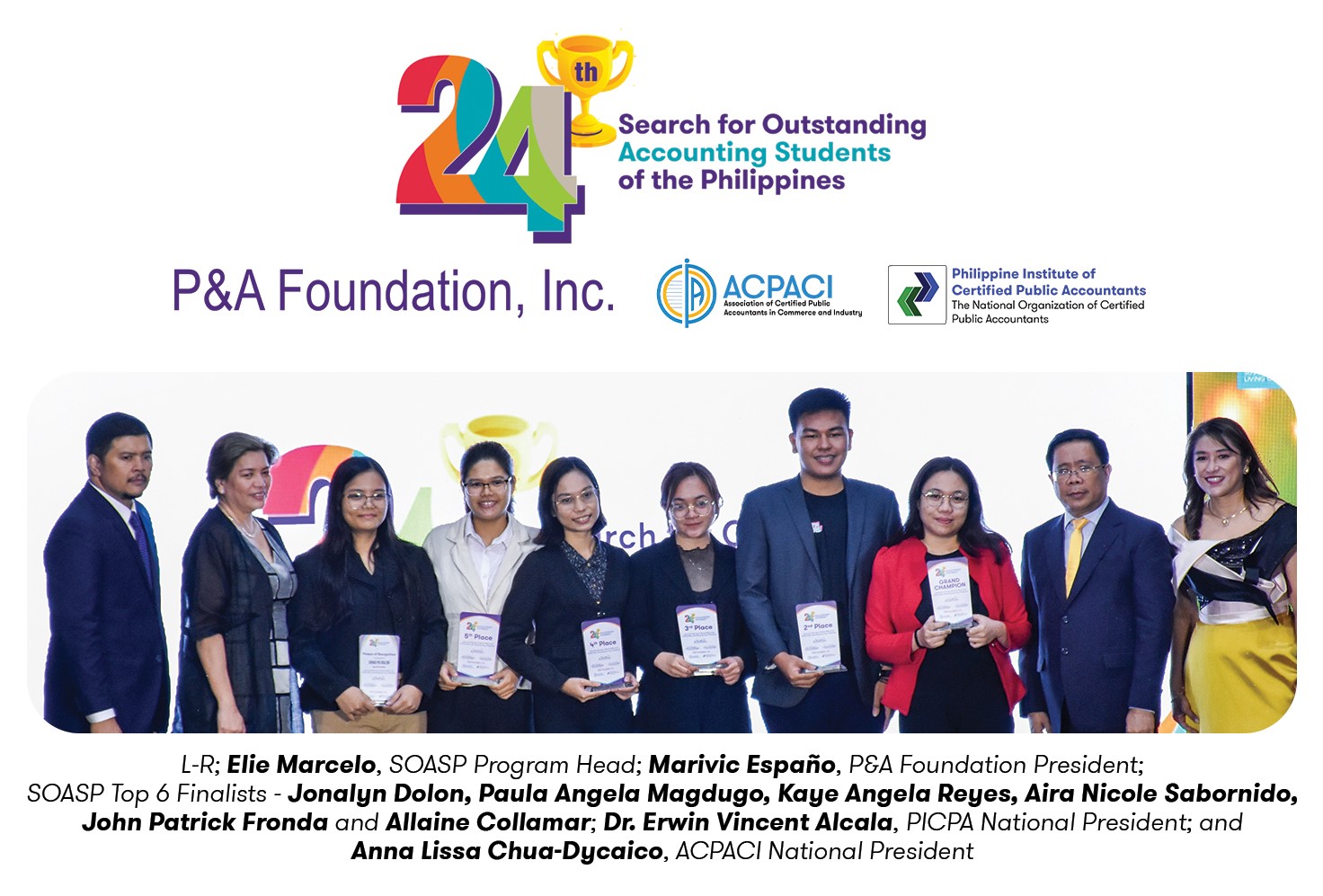 Now on its 24th year, the Search for Outstanding Accounting Students of the Philippines (SOASP), organized by P&A Foundation, Inc., the Philippine Institute of Certified Public Accountants, and by the Association of Certified Public Accountants in Commerce and Industry, awarded its Grand Champion last March 16, 2023 in congruence to the celebration of the Centenary Year of the Accountancy Profession in the Philippines.
Besting 457 participating students from 106 schools across the country during the Qualifying Examination held last February 18, 2023 are Aira Nicole Sabornido and Allaine Collamar from the University of the Philippines Visayas Tacloban College; Arbrex Jun Cruz, Alpha Shanelle Laure, Jose Fernan Romero, Kaye Angela Reyes, Marjolyn Estrada, and Sylvester Ferrer from Kingfisher School of Business and Finance; Franchesca Alon from De La Salle University – Dasmariñas; John Patrick Fronda from PHINMA UPang College of Urdaneta; Aireen Kate Rosario from PHINMA – University of Pangasinan; Daniel Terencio, John Paul Fadrilan, and Mariel Dipolog from the Polytechnic University of the Philippines – Manila; Jacob Valeroso from the Lyceum of the Philippines University – Laguna; Jonalyn Dolon from Baliwag Polytechnic College; Joseph Mag-aso Jr. from Binalbagan Catholic College; Mark Joseph Austria from the University of the East – Caloocan; Megan Mendoza from the University of San Carlos; Paula Angela Magdugo from the University of the Philippines – Diliman; Rod Anne Cabarles from Bulacan State University; Martina Virutiao from the University of Santo Tomas; Nicole Gonzales from the University of the Cordilleras; Risale Mae Silverio from Mary the Queen College (Pampanga), Inc.; and Trisha Huang from De La Salle University – Manila as Top 25 Finalists.
Six accounting students emerged as the most outstanding. They are Allaine Collamar (24th SOASP Grand Champion), John Patrick Fronda (1st runner-up), Aira Nicole Sabornido (2nd runner-up), Kaye Angela Reyes (3rd runner-up), Paula Angela Magdugo (4th runner-up) and Jonalyn Dolon (5th runner-up).
Our sincere congratulations to our Grand Champion and to all 457 participants in this year's SOASP! Thank you for promoting excellence, unquestionable integrity, and commitment to inspire the country's future generation of accounting professionals.
As published in BusinessWorld, dated 05 April 2023