We value each of the 50,000 people in our member firms equally and appreciate every contribution across Grant Thornton.
If you wish to develop your talents to the fullest and build a fulfilling career, join P&A Grant Thornton, where you will be part of a dynamic...
Fresh Graduates

Fresh Graduates

Students

Whether you are starting your career as a graduate or school leaver, P&A Grant Thornton can give you a flying start. We are ambitious. Take the fact that we're the world's fastest-growing global accountancy organisation. For our people, that means access to a global organisation and the chance to collaborate with more than 40,000 colleagues around the world. And potentially work in different countries and experience other cultures.

Experienced hires

P&A Grant Thornton offers something you can't find anywhere else. This is the opportunity to develop your ideas and thinking while having your efforts recognised from day one. We value the skills and knowledge you bring to Grant Thornton as an experienced professional and look forward to supporting you as you grow you career with our organisation.
If you would like to join Grant Thornton, you may have a few questions about our organisation, how we do business, our culture and our global opportunities....
Annual IBR M&A report
Our annual look at M&A sentiment around the world shows that the shift in acquisitive focus amongst businesses uncovered last year – from domestic to cross-border – is becoming increasingly popular as a key strategy for companies looking to facilitate growth.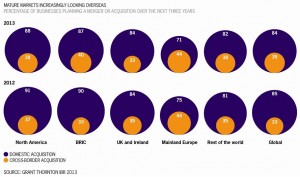 The 2013 IBR M&A report, The rise of the cross-border transaction, reveals that close to two in five of those businesses planning to grow through acquisition over the next three years are looking at cross-border opportunities. This is up from one in three this time last year, and less than one in four before the financial crisis struck.
With the eurozone crisis rumbling on and the region set to contract again this year, it's no surprise to see 44% of mainland Europe's business leaders looking overseas for expansion opportunities. 38% of North America's businesses are similarly minded.
Business leaders in the faster-growing BRIC economies are also increasingly looking at cross-border acquisitions – both to boost productivity and demand by accessing new technologies and markets respectively. 40% of those looking to expand – led by mainland China (48%) – are now looking overseas, up from 33% 12 months ago.
A merger or acquisition offers dynamic organisations the opportunity to diversify and access new markets and growth opportunities relatively quickly in order to maintain a competitive advantage and create shareholder value.
Activity remains relatively depressed by the pervading uncertainty in the global economy, but the marked increase in prominence and importance of cross-border M&A to business leaders illustrates that accessing global markets and opportunities is now, more than ever, a vital growth tool.
Mike Hughes is international service line leader for M&A at Grant Thornton.
Check out our data visualisation tool for M&A data going back to 2008 or for more information please contact the Global research team.