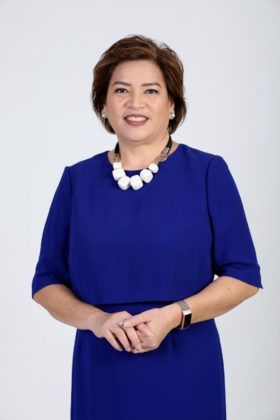 Marivic Españo (Contributed photo)
THE Philippines topped Grant Thornton International's 2020 Women in Business survey, which showed that 43 percent of female executives in the country hold senior leadership roles, better than last year's 37 percent.
In a statement, Grand Thornton International said the country ranked first among the 32 countries polled. It said the top three positions held by Filipina executives are chief finance officer at 38 percent of Philippine businesses surveyed, compared with 45 percent in 2019; human resources director, at 36 percent from 52 percent; and chief operating officer, at 23 percent from 37 percent.
"We are seeing that the most significant roles in business operations — strategy, finance and people — are being held by women. The percentages have decreased this year, and it is interesting to note that women are holding these same three roles," P&A Grant Thornton Chairman and Chief Executive Officer Marivic Españo was quoted as saying in the statement.
She noted, however, that 94 percent of businesses were taking cautious steps to break the glass ceiling by "ensuring equal access to developmental work opportunities, enabling flexible working, reviewing recruitment approaches and providing mentoring and coaching."
"It is extremely encouraging to see deliberate action taking place as mid-market businesses ramp up activities that encourage progress and accessibility to leadership positions for women," Españo said.
Also, senior leaders are also doing their part to advocate inclusion and equality.
"Survey respondents have said that their most senior leader asked female talent what it's like to work at the company and how it can improve, as well as personally encouraged colleagues to speak up with ideas and issues and encouraged others in senior management to be role models or champions for women," the statement said.
The poll also showed that only 29 percent of women worldwide hold senior leadership positions.
"2018 saw a sharp rise in the representation of women at a senior level after significant changes in the social climate of the western world," Españo noted. "However, this year's numbers have leveled off once again, highlighting that change at the top is glacial."
Despite this, initiatives pushing for workplace equality have increased.
Creating an inclusive culture rose to 34 percent this year from 31 percent last year, enabling flexibility at the workplace inched up to 31 percent from last year's 29 percent, and ensuring developmental opportunities remained at 34 percent.
Españo stressed the importance of businesses taking the initiative and creating policies geared toward equality in the workplace.
"Policies that ensure diversity of thought at the decision-making table, that address equal opportunity in career development and bias in recruitment and develop inclusive cultures can't just be a nice to have — they are a must," she explained.
Moreover, these policies must be implemented, enforced and regularly reassessed to ensure effectiveness.
"When that is combined with real commitment from senior leadership, only then will real transformational change take place," Españo said.
As published in The Manila Times, dated 01 March 2020