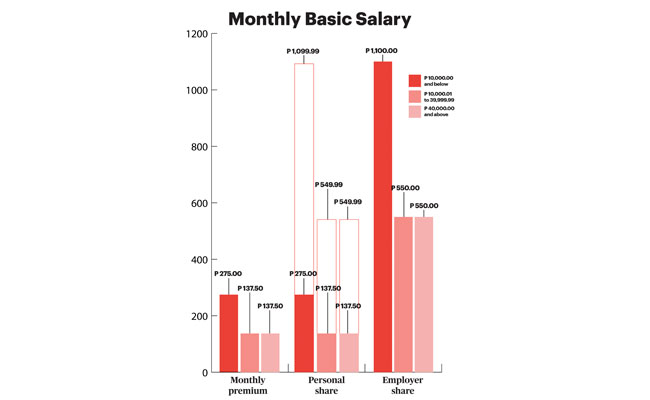 IN response to the growing health care financing needs of members and to ensure the sustainability of health care benefits, the Philippine Health Insurance Corp. (PhilHealth) issued PhilHealth Circular No. 2017-0024 last Nov. 1.
Under the Circular, the salary brackets are removed. Instead, the monthly contribution is set at a fixed rate of 2.75 percent based on the monthly basic salary floor of P10,000 and a ceiling of P40,000, as shown on the graph above.
The new contribution scheme covers employees and employers in the government and private sectors, including kasambahays, family drivers, and sea-based overseas Filipino workers. The monthly contribution will still be equally shared by the employee and the employer, with the exception of kasambahays.
In accordance with Republic Act No. 10361, the premium contributions of kasambahays will be shouldered solely by the household employer, unless the kasambahay is receiving a monthly salary of at least P5,000.
The cost-sharing schedule of monthly contributions is continuously evaluated by PhilHealth to ensure that the costs borne by the members and employers are fair and equitable. The revised premium contribution will take effect in January 2018.
Source: P&A Grant Thornton
As published in SunStar Cebu dated 12 December 2017.