We value each of the 50,000 people in our member firms equally and appreciate every contribution across Grant Thornton.
If you wish to develop your talents to the fullest and build a fulfilling career, join P&A Grant Thornton, where you will be part of a dynamic...
Fresh Graduates

Fresh Graduates

Students

Whether you are starting your career as a graduate or school leaver, P&A Grant Thornton can give you a flying start. We are ambitious. Take the fact that we're the world's fastest-growing global accountancy organisation. For our people, that means access to a global organisation and the chance to collaborate with more than 40,000 colleagues around the world. And potentially work in different countries and experience other cultures.

Experienced hires

P&A Grant Thornton offers something you can't find anywhere else. This is the opportunity to develop your ideas and thinking while having your efforts recognised from day one. We value the skills and knowledge you bring to Grant Thornton as an experienced professional and look forward to supporting you as you grow you career with our organisation.
If you would like to join Grant Thornton, you may have a few questions about our organisation, how we do business, our culture and our global opportunities....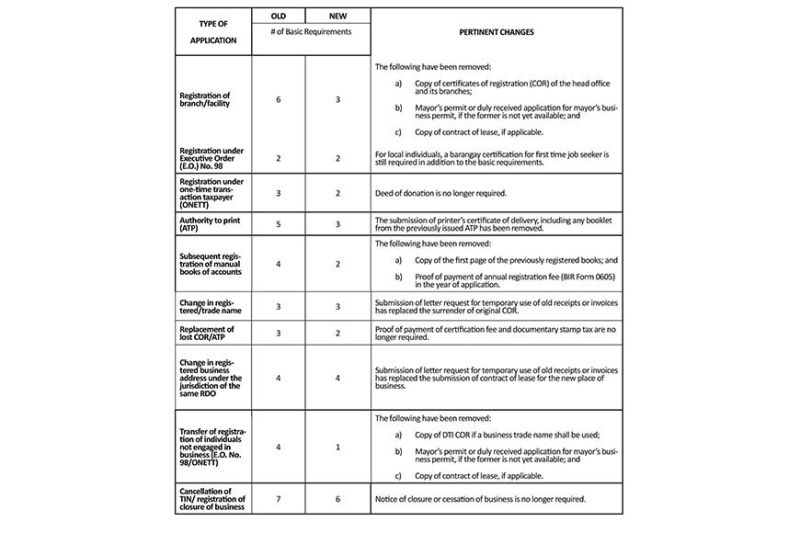 REPUBLIC Act (RA) 11032, otherwise known as the Ease of Doing Business and Efficient Government Service Delivery Act of 2018, mandates all offices and agencies providing government services to regularly undergo evaluation and improvement of their transaction systems and procedures and re-engineer the same if deemed necessary in order to mitigate undue regulatory burden and costs to the agencies and the applicants or requesting parties.

To align BIR's efforts with RA 11032, Revenue Memorandum Circular (RMC) 57-2020 has been issued to update policy and revise checklist of documentary requirements for business registration and other types of applications.
The streamlined documentary requirements for the following BIR applications are as follows:
Applications or requests with incomplete requirements will not be processed.
For the complete list of updated documentary requirements, refer to the Annexes A1 to A11 of RMC 57-2020 in the BIR website (https://www.bir.gov.ph/).
Source: P&A Grant Thornton Certified Public Accountants
As published in SunStar Cebu, dated 08 July 2020