In accordance with Republic Act No. 11199, or the Social Security Act of 2018, the Social Security System (SSS) issued SSS Circular No. 2019-05 on March 15, 2019, prescribing the new contribution table that is effective in April 2019, as illustrated below.
SCHEDULE OF SOCIAL SECURITY (SS) CONTRIBUTIONS
(EMPLOYED, SELF-EMPLOYED, VOLUNTARY MEMBER, AND NON-WORKING SPOUSE)
Effective April 2019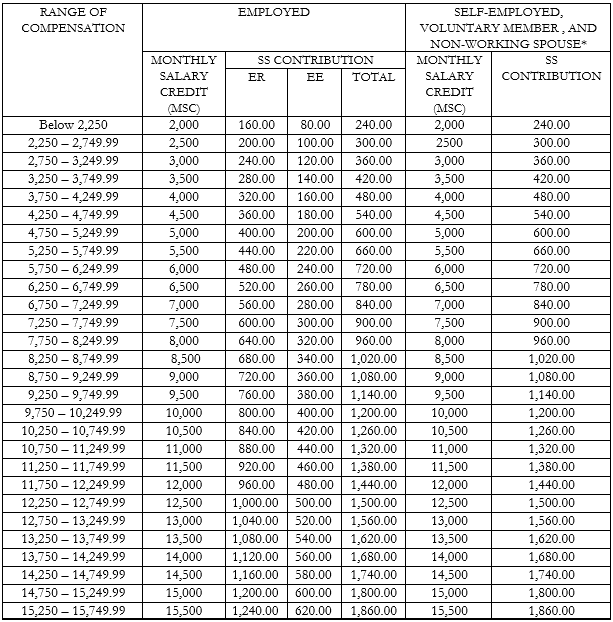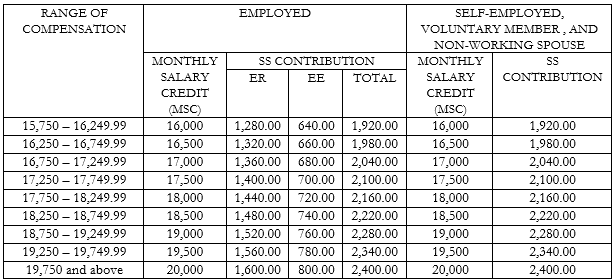 *The contribution of the Non-Working Spouse shall be based on 50 percent of the Monthly Salary Credit of their working spouse.
Please note that the Employees Compensation (EC) Program has yet to be released and is not reflected in the table above.
For Self-Employed/Voluntary/Non-working Spouse members who have already paid their contributions beforehand for April 2019 onwards based on the old contribution schedule are advised as follows:
Those with advance payments at the minimum MSC of P1,000 shall settle underpayments with an amount of P130 per month. P75 per month shall be remitted for those who paid at P1,500 MSC; otherwise, such advance payment shall be deemed as ineffective contributions; and
Those with advance payments on MSC other than the minimum P1,000 and P1,500 may pay the corresponding increase in contributions to retain posting at the same MSC; otherwise, such payment shall be posted at the applicable lower MSC.
Please be guided accordingly.
As published in SunStar Cebu, dated 26 March 2019