We value each of the 50,000 people in our member firms equally and appreciate every contribution across Grant Thornton.
If you wish to develop your talents to the fullest and build a fulfilling career, join P&A Grant Thornton, where you will be part of a dynamic...
Fresh Graduates

Fresh Graduates

Students

Whether you are starting your career as a graduate or school leaver, P&A Grant Thornton can give you a flying start. We are ambitious. Take the fact that we're the world's fastest-growing global accountancy organisation. For our people, that means access to a global organisation and the chance to collaborate with more than 40,000 colleagues around the world. And potentially work in different countries and experience other cultures.

Experienced hires

P&A Grant Thornton offers something you can't find anywhere else. This is the opportunity to develop your ideas and thinking while having your efforts recognised from day one. We value the skills and knowledge you bring to Grant Thornton as an experienced professional and look forward to supporting you as you grow you career with our organisation.
If you would like to join Grant Thornton, you may have a few questions about our organisation, how we do business, our culture and our global opportunities....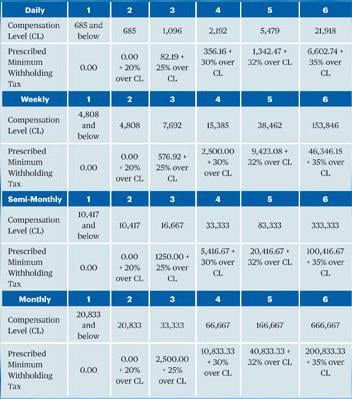 IN line with Republic Act (RA) No. 10963, also known as the "Tax Reform for Acceleration and Inclusion (TRAIN)", the Bureau of Internal Revenue (BIR) has circularized the revised withholding tax table through its Revenue Memorandum Circular (RMC) No. 105-2017.
The revised table should be used in computing the withholding tax to be deducted on every payment of compensation to employees effective Jan. 1, 2018 to Dec. 31, 2022.
By Jan. 1, 2023, revised individual income tax rates will take effect.
Unlike the previous table, the revised table shows standardized withholding tax rates, considering the repeal of the personal and additional exemptions for purposes of computing the individual income tax, as shown above.
Under the TRAIN, the tax-exempt bracket in the schedule of annual income tax rates is P250,000. The tax-exempt threshold for 13th month pay and bonuses, on the other hand, is now at P90,000.
Please be guided accordingly.
Source: P&A Grant Thornton
As published in SunStar Cebu dated 9 January 2018.