We value each of the 50,000 people in our member firms equally and appreciate every contribution across Grant Thornton.
If you wish to develop your talents to the fullest and build a fulfilling career, join P&A Grant Thornton, where you will be part of a dynamic...
Fresh Graduates

Fresh Graduates

Students

Whether you are starting your career as a graduate or school leaver, P&A Grant Thornton can give you a flying start. We are ambitious. Take the fact that we're the world's fastest-growing global accountancy organisation. For our people, that means access to a global organisation and the chance to collaborate with more than 40,000 colleagues around the world. And potentially work in different countries and experience other cultures.

Experienced hires

P&A Grant Thornton offers something you can't find anywhere else. This is the opportunity to develop your ideas and thinking while having your efforts recognised from day one. We value the skills and knowledge you bring to Grant Thornton as an experienced professional and look forward to supporting you as you grow you career with our organisation.
If you would like to join Grant Thornton, you may have a few questions about our organisation, how we do business, our culture and our global opportunities....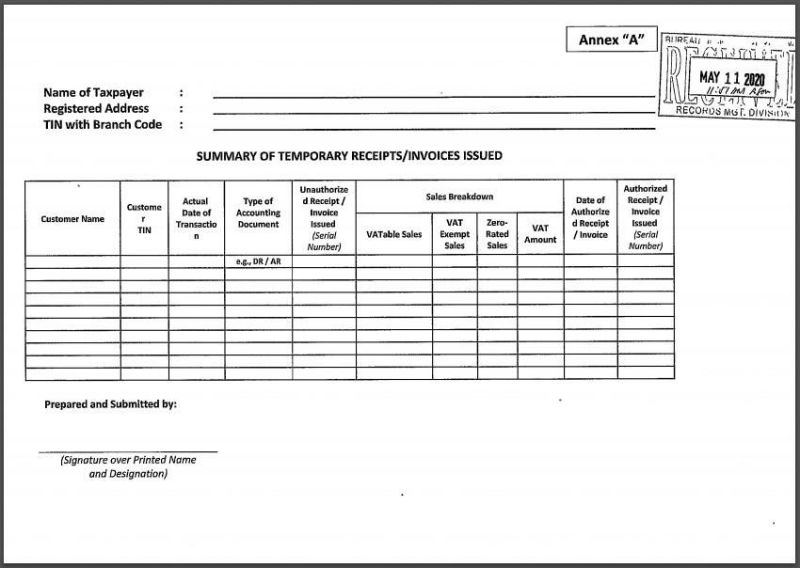 THE Bureau of Internal Revenue (BIR) has recently issued Revenue Memorandum Circular (RMC) 96-2020 to reiterate the alternative modes of issuance of receipts/invoices applicable during the period of modified enhanced community quarantine (MECQ).
Under RMC 47-2020, as amended by RMC 59-2020, taxpayers located in areas covered under MECQ are allowed to adopt workaround procedures on the issuance of receipts/invoices to be able to continue their business operations.
In compliance with existing revenue issuances, business taxpayers must issue receipts/invoices with Authority to Print (ATP) for manually bound or loose-leaf receipts or invoices, while system generated receipts/invoices must have a duly approved Permit to Use (PTU) or acknowledgment certificate, whichever is applicable.
However, in case the duly authorized or approved receipts/invoices shall be inaccessible or unavailable due to quarantine measures, the business taxpayers may opt to use any of the following:
a. BIR printed receipts/invoices
b. Scanned copy of receipt/invoice with ATP and electronically transmitted JPEG, PDF or any equivalent format to the customer
c. Computer-aided receipt/invoice in excel format not covered by an ATP and similarly transmitted electronically in JPEG, PDF or any equivalent format to the customer
d. Supplementary receipts/invoices issued (i.e., delivery receipts, acknowledgement receipts, etc.) in lieu of the principal receipts/invoices (i.e., official receipts and sales invoice)
e. Receipt/invoice using the existing Computerized Accounting System (CAS) or its components with approved PTU or acknowledgment certificate; however, the said receipt/invoice is being sent electronically in JPEG, PDF or any equivalent format to the customer
f. Receipt/invoice generated from a newly developed receipting/invoicing software or CAS or its components without duly approved PTU or acknowledgment certificate, which was used to temporarily generate/issue the receipts/invoices and the receipt/invoice is being sent electronically in in JPEG, PDF or any equivalent format to the customer.
Once the MECQ is lifted, the taxpayer/seller must immediately provide or issue the duly authorized receipts/invoices to their clients/customers to cover all sales transactions that were issued temporary receipts/invoices during the MECQ period.
Taxpayers, who opted to adopt the workaround procedures during the period of MECQ from Aug. 4 to 18, 2020, are reminded to submit the required summary of temporary receipts/ invoices issued , following the format prescribed by Annex "A" of the RMC 47-2020 attached below, to their respective revenue district offices within 90 days from the date of the lifting of MECQ, among other requirements.
Please be guided accordingly.

Source:
P&A Grant Thornton
Certified Public Accountants
As published in SunStar Cebu, dated 07 October 2020