A FEW months ago, the Home Development Mutual Fund (HDMF or Pag-Ibig Fund) issued Circular No. 380, amending the following guidelines on membership termination from the previously issued Circular No. 342.
The amendments focus on membership maturity, effects of termination on housing loan borrowers applying for membership termination, and additional mode of payment of claims or benefits.
Membership maturity happens when the membership reaches 20 years from the date of the member's first contribution and when the member has remitted at least 240 monthly contributions with the Fund. Upon maturity, the member is entitled to withdraw his/her total accumulated value (TAV) from the Fund, which includes the member's accumulated contributions, the employer's counterpart contributions and dividend earnings, as applicable.
Pertinent changes to the reckoning period and gaps in remittances are as follows: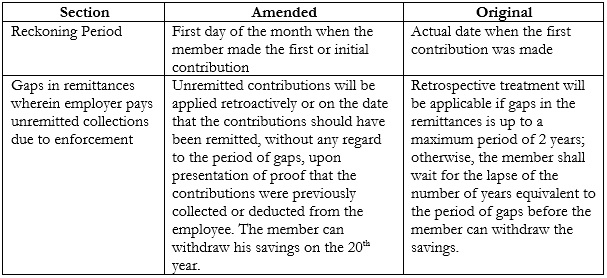 Pag-ibig offers various types of loans such as multi-purpose loan, housing loan, short-term loan and calamity loan. As a general rule, any outstanding obligations, including interest and penalties, shall be deducted from the TAV, with the exception on housing loans. For housing loans, the member shall be allowed to withdraw his/her TAV provided that the member shall continue to pay the amortization of the loan until fully paid.
Starting 2017, claiming of TAV will not only be limited to crediting to the member-claimant's disbursement or cash card, payment through check and payment through similar modes as approved by the HDMF's Board, but also crediting to the member-claimant's account through Landbank's Payroll Credit System Validation wherein the claims will be directly deposited to the member's existing ATM or savings account.
For more information, please refer to the Circular's full text in the Pag-ibig Fund's website.
Source: P&A Grant Thornton
As published in SunStar Cebu, dated 11 July 2017.