Supply chain management is moving away from lagging profit and loss-based analytics to strategic AI platforms. Oliver Bridge explains how this can help inform decisions around cost, capacity and change.
Traditionally, the finance department focused on providing operational services like transaction processing, ledger maintenance, and statutory reporting. But CFOs are now being asked to deliver more key insights and lead discussions on strategic decision-making across the supply chain to remove cost or improve efficiency. This change has only accelerated during the events of 2020.
In our 2020 CFO survey, our researchers found a significant change between February and May 2020 in both the strategist and change agent capacities.
The role of the CFO has changed
Over the last six months, we've held numerous roundtables and conversations with CFOs across the country. We've learned that the expectations of what CFOs need to deliver are rapidly changing.
From these conversations and roundtables, we've been inspired to develop our CFO scorecard, which helps facilitate discussions with CFOs, demonstrating how they currently spend their time versus where they think they should be focused going forwards.
CFO's repeatedly tell us that their senior team and analysts are spending more effort delivering standard reports, which often involve multiple formats or unnecessary 'slicing and dicing' of information.
"I need to spend more time concentrating on corporate strategy and value generation rather than the BAU grind."
As technology improves and is adopted within businesses, a significant opportunity exists to digitalise finance to help streamline and automate many of the repetitive and routine tasks of the function. Optimising the processing of those tasks provides capacity for more data collection and capturing within the business, which in turn can be utilised by strategic decision-making tools, such as analytics and artificial intelligence (AI) platforms. Even more, the use of AI and Analytics can free up valuable time for more high value, strategic work for finance teams.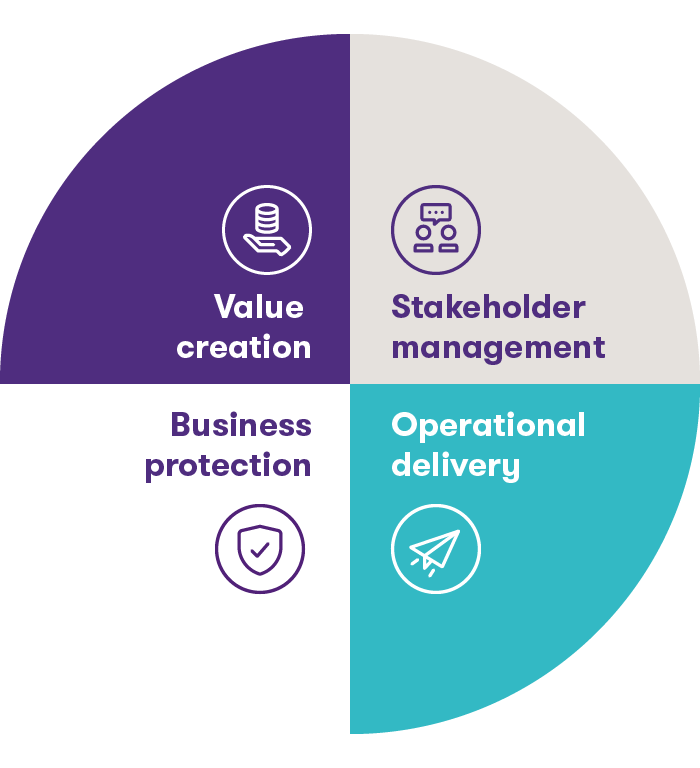 Stakeholders are increasingly expecting CFOs to identify cost and efficiency initiatives and uncover areas that focus on the long-term growth story of the business. Profit and loss-based solutions like activity cost management and variance reporting have been used by finance to deliver tactical value creation in the short and medium term, often with emphasis on turnover and margin. CFOs need to know where to make capital investments and how to allocate their organisation's finite resources of their supply chain over the long term.
Partnering for the future of supply chain management
While businesses have a wealth of data available, the challenge is being able to use it in an effective manner. Organisations are facing the need to rapidly react and adapt to constantly changing conditions within the market in which they operate.
Data is not readily accessible when it's spread across numerous disparate systems and formats. Finance use systems to combine multiple enterprise resource planning (ERP) profit and loss versions into one standard business information platform to compare financial performance.
Monolithic ERP systems and various siloed supply and analytical needs as they do not offer the degrees of freedom to assess interconnected trade-off scenarios across an extended global supply chain.
One AI-powered enterprise decision platform that does just that is LLamasoft's llama.ai.
LLamasoft can typically identify around 10% cost reductions within manufacturing, logistics, inventory, and the wider supply chain.
llama.ai facilitates rapid decision-making by allowing the creation of a 'digital supply chain twin'. A virtual representation of the physical supply chain. This uses internal data and augments it with external sources. In turn, providing insights into your business and the external market, letting you model scenarios, design optimal supply chain structures, and predict outcomes.
llama.ai is a solution to leverage data to inform strategic decision-making without the need to create a single enterprise supply chain system that few would have the appetite to build.
For support with supply chain management, get in contact with Oliver Bridge.
Published from Grant Thornton UK