P&A Grant Thornton uses cookies to monitor the performance of this website and improve user experience
To find out more about cookies, what they are and how we use them, please see our privacy notice, which also provides information on how to delete cookies from your hard drive.
Businesses need to remain agile and alert as coronavirus evolves.
Where to go for information
How we are responding to COVID-19
Global guidance
The COVID-19 situation continues to evolve and the advice to businesses on how to respond is constantly being updated.
As the virus continues to evolve, our aim remains the same, to serve our people, clients, and communities with care and confidence.
The coronavirus COVID-19 situation continues to evolve and the advice to businesses is constantly being updated.
As the pandemic shakes markets and impacts people in the Philippines and abroad, it's creating significant challenges for business leaders.
The role that business leaders and professionals can play is being brought into focus. Tedros Adhanom Ghebreyesus, World Health Organization Director-General says: "The decisions we make—as governments, businesses, communities, families, and individuals—can influence the trajectory of this epidemic. We need to remember that with decisive, early action, we can slow down the virus and prevent infections."
So what steps can you take now? In our hub, we have brought together insights and advice from our experts to supports businesses in their response.
COVID-19 business checklist
We have designed a checklist of questions to help businesses develop their response plan for COVID-19. This type of planning is critical. If you don't have one already, this checklist can help you start to build a disaster response plan for your organization to use now and in the future.
Download PDF [ 322 kb ]
The first edition of our Philippine Government COVID-19 Relief Package Report brings together relevant business guidance from across government agencies, as well as summarizes the actions the Philippine government has taken to control the spread of the coronavirus and to mitigate its social and economic impact.
COVID-19 Relief Package (1st Edition)
Download PDF [19865 kb]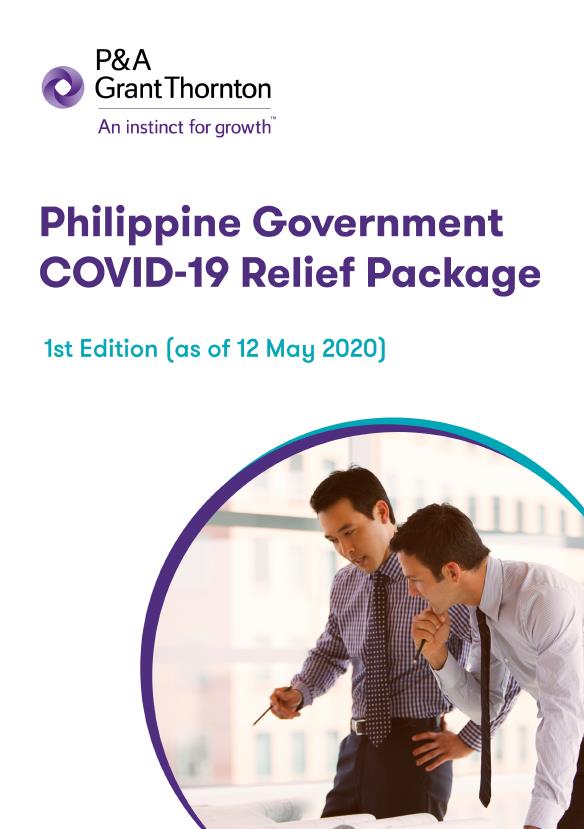 As always, we are here to support in times of difficulty. With a multidisciplinary team of specialists, there are many ways we can assist you now and into the future.
If you need to discuss any information discussed or your organization's specific circumstances, please don't hesitate to get in touch with one of our people.
Contact us
Marivic Españo
CEO and Chairperson
E: Marivic.Espano@ph.gt.com
Jun Cuaresma
Managing Partner and COO
E: Jun.Cuaresma@ph.gt.com
Third Librea
Partner and Head of Advisory Services
E: Third.Librea@ph.gt.com
Lina Figueroa
Principal, Tax Advisory & Compliance
E: Lina.Figueroa@ph.gt.com
Mabel Comedia
Partner, Audit & Assurance
E: Mabel.Comedia@ph.gt.com
Jerald Sanchez
Partner, Audit & Assurance
E: Jerald.Sanchez@ph.gt.com
Paz Malubay
Head of Business Process Solutions/Outsourcing
E: Paz.Malubay@ph.gt.com
Mai Sigue-Bisnar
Partner, Audit & Assurance; Advisory Services
and Head of Marketing & Communications
E: Mai.Sigue-Bisnar@ph.gt.com