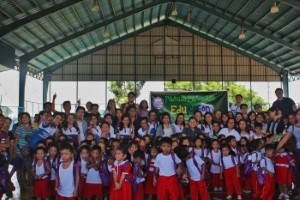 P&A for a Cause (P&Ause), Punongbayan and Araullo's (P&A) employee organization for social responsibility under the P&A Foundation, successfully conducted the P&Ause P&Ackage: EduKahon on June 26, 2015 at the San Luis Convention Center in Pampanga.
Around 150 daycare students from three barangays in San Luis, Pampanga: Santa Catalina, Santa Cruz Pambilog, and San Sebastian, received a backpack, a raincoat, and a complete set of basic school supplies packed in recycled shoe boxes donated by P&A staff members. The preschoolers were also entertained with various games prepared by the volunteers. Each of the social workers from the three barangays also received a teacher's kit to assist them in nourishing the minds of their respective daycare students. The project was graced by the presence of San Luis Mayor Venancio Macapagal, who expressed his warmest gratitude to the organization during his welcome remarks.
In 2013, in commemoration of the 25th anniversary of P&A, P&A Foundation donated a school building at Sta. Cruz Pambilog Elementary School, one of the schools that were submerged in flood during Typhoon Pedring.