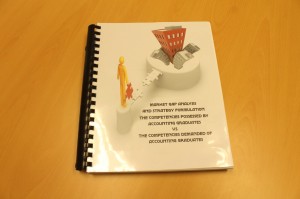 In December 2013, P&A endorsed the results and recommendations of the research study conducted by University of Asia and the Pacific (UA&P), entitled "Market gap analysis and strategy formulation: The competencies possessed by accounting graduates vs. the competencies demanded of accounting graduates," to the Board of Accountancy, Department of Education (DepEd), and Commission of Higher Education (CHED), for evaluation of possible improvements to the accounting curriculum around the country.
P&A, together with partner institutions and organizations—Association of Certified Public Accountants in Public Practice (ACPAPP), Association of Certified Fraud Examiners-Philippines (ACFE-P), Business Processing Association of the Philippines (BPAP), Financial Executives of the Philippines (FINEX), Institute of Internal Auditors-Philippines (IIA-P), Information Systems Audit and Control Association (ISACA), National Association of Certified Public Accountants in Education, Inc. (NACPAE), Philippine Institute of Certified Public Accountants (PICPA), and Personnel Management Association of the Philippines (PMAP)—commissioned UA&P to conduct the study on the accountancy curriculum and identify gaps between the quality of accounting graduates produced and the competencies required of accounting graduates.
The Memorandum of Agreement signing between P&A and its partner institutions and organizations was held on July 31, 2012 and August 12, 2012, respectively.