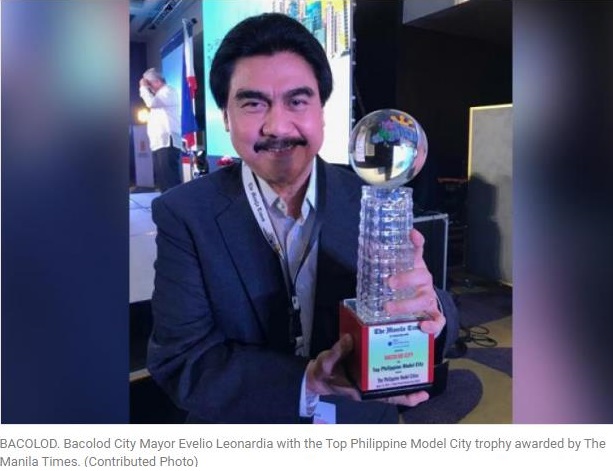 BACOLOD has been chosen as Top Philippine Model City by The Manila Times in "The Philippine Model Cities" search for the most livable urban centers in the country.
"This award validates what Bacolod is now. This will inspire us more to cultivate a culture of excellence, not just for contests like this, but for our values as a people with a high sense of responsibility," Bacolod Mayor Evelio Leonardia, who led city officials in receiving the recognition Thursday, May 11, said.
During the awarding rites held at the New World Manila Bay Hotel, Leonardia was joined by Bacolod City Lone District Representative Greg Gasataya, Vice Mayor El Cid Familiaran, Councilors Em Ang and Dindo Ramos, and City Administrator John Orola.
The Manila Times, one of the most respected broadsheets and the country's oldest newspaper at 119 years old, included Bacolod in a shortlist of 13 cities chosen from among 37 select cities.
"Bacolod City is indeed not just 'back on track but back on top,'" Gasataya, for his part, said, adding that they will continue with their cooperation to address the concerns of the city that need immediate solution.
"The award proves that Bacolod is one of the fastest growing cities in the country. Indeed, Bacolod is back on track," Familiaran said.
Rounding the Final 13 in The Philippine Model Cities list are (in alphabetical order) Batangas, Davao, General Santos, Laoag, Mandaluyong, Naga, Parañaque, Quezon, San Fernando, Sta. Rosa, Tagaytay, and Zamboanga.
These cities also received special awards based on several social indicators in the criteria, including Peace and Security, Rest and Recreation, Research and Development, Health and Education, Clean and Green, Road and Home, Livelihood and Employment, Youth and Elders, Tax and Services, and Emergency/Disaster Preparedness.
Bacolod was the only Visayan city in the 13 finalists.
Judges include prominent Filipino urban planner Felino Palafox Jr., founder and managing partner of Palafox Associates; lawyer Lea Roque, head of Tax Advisory and Compliance Division of P & A Grant Thornton; Rosemarie Bosch-Ong, director of Wilcon Depot; and Marife Zamora, chairman of Convergys Philippines Services Corporation.
Present at the awarding rites were Dante Ang II, president, chief executive officer, and executive editor of The Manila Times, and his father Dr. Dante Ang, chairman emeritus of The Manila Times, and newly appointed presidential special envoy for international public relations by President Rodrigo Duterte.
Earlier this year, The Conyo Times also ranked Bacolod as the No. 1 among 10 leading cities in the country in its "The Best Cities to Live in the Philippines" list.
In 2008, MoneySense magazine chose Bacolod as the "Best Place to live in the Philippines."
In 2012, popular blog ikwaderno.wordpress.com named Bacolod as the "Most Livable Philippine City." (NLG)
As published in SunStar Bacolod, dated on 15 May 2017