Tentative filing of returns during the quarantine period; extended period to submit 2316, alphalist, 1604E and 1604CF
(Revenue Memorandum Circular No. 26-2020, March 18, 2020)
This Tax Alert is issued to inform all concerned that the filing and payment of the tax returns whose deadline/due date falls within the quarantine period should still be filed on or before the tax returns' respective due dates.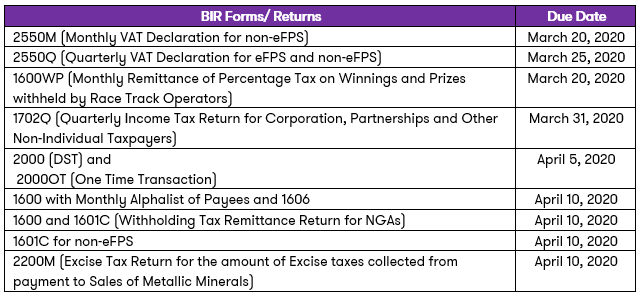 To address concerns brought about by the community quarantine, the following guidelines are provided by the BIR:
Taxpayers may file tentative returns of the covered returns and shall be given 30 days from the aforesaid due dates to file the final tax returns and pay the taxes due thereon. (We note that the circular did not specifically provide waiver of penalties, hence, filing and payment of returns on or before above due dates is advised to avoid penalties.)
Filing of no payment returns shall be made through either eFPS or eBIRForms facility only.
Online payment options for those filing who shall manually file or file thru eBIRForms Facility are available.
The extended March 31, 2020 deadline for submission of the following BIR forms has been extended further to April 30, 2020:

BIR Form 1604CF, including the alphalist for employees/ payees
BIR Form 2316; and
BIR Form 1604E, together with the alphalist of payees.
Below is the summarized modes of filing/payment of the above returns: