The Tax Amnesty Act
(Republic Act No. 11213, February 14, 2019)
This Tax Alert is issued to inform all concerned of the salient provisions of the Tax Amnesty Act signed last February 14, 2019 together with the veto message of the President.
The signed Tax Amnesty Act as partially vetoed by the President provides two types of tax amnesties – estate tax amnesty and tax amnesty on delinquencies.
The estate tax amnesty covers the estate of decedents who died on or before December 31, 2017, including estate or donor's taxes arising from transfers of the estate from all previous decedents or donors to the latest heirs or beneficiaries. The tax amnesty on delinquencies applies to taxes due under assessments which have become final and executory, criminal cases filed in court, and unremitted withholding taxes.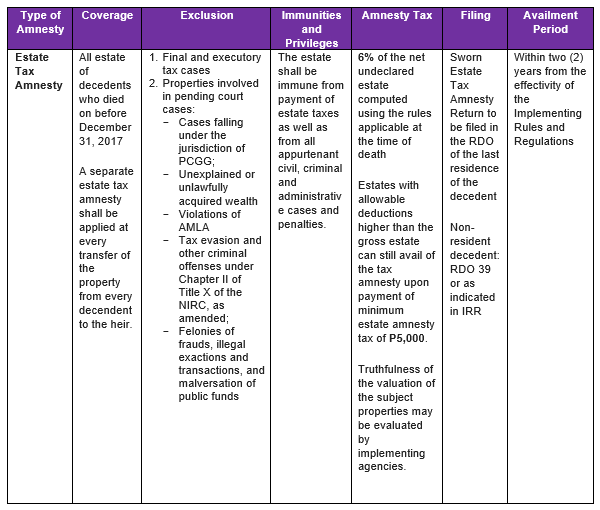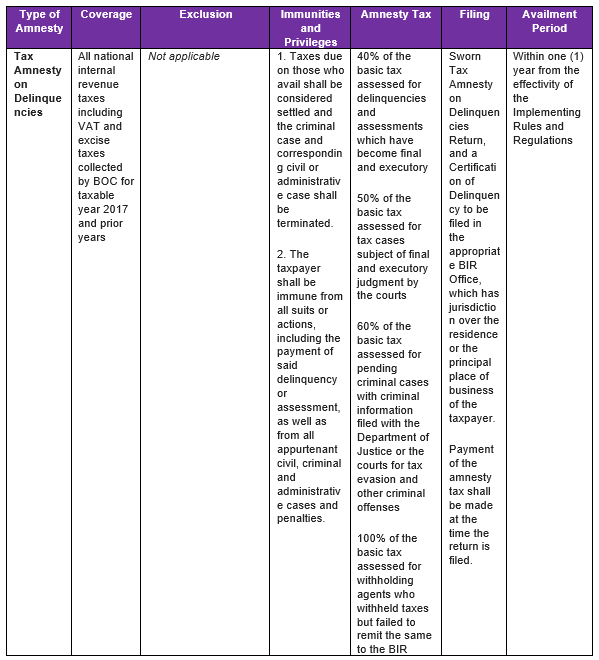 The proposed general tax amnesty was vetoed by the President. The proposed general tax amnesty would have applied to all national internal revenue taxes including those payable to the Bureau of Customs (BOC)- which have remained unpaid, including those covered by tax assessments which have not become final and executory. The President believed that there were not enough provisions to safeguard the government against those who might abuse the amnesty through declaring an untruthful asset or net worth, such as the relaxation of bank secrecy law.
The act shall take effect within 15 days from the publication in a local newspaper. The necessary rules and regulations of the tax amnesty act shall be promulgated within 90 days from the effectivity of the act.