PRC BOA's Rules on Financial Statements Preparation Take Effect for 2015 Financial Statements
Regulations
January 21, 2016
This Accounting Alert is issued to provide information about the recent Board of Accountancy (BOA) Resolution No. 3-2016 dated January 19, 2016. The BOA has signed the rules on the preparation of the Certificate of Compilation Services for the Preparation of Financial Statements (FS) and Notes thereto ("the Certificate").
The rules provide, among others, the following:
requirement of the attachment to the annual FS of a "Certificate on the Preparation of Financial Statements and Notes to the Financial Statements"
the Certificate shall be prepared only for issuers which/who have gross sales or revenues exceeding ten million pesos (P10,000,000) for a particular accounting year
the preparation of the FS and disclosure notes is a practice of accountancy in commerce and industry and shall be done only by Certified Public Accountants ("CPAs")
the reiteration of the rule that CPAs in public practice are prohibited from preparing or assisting in the preparation of the FS and disclosure notes of their clients which engaged them to render attest services for the same documents
the CPAs in public practice who violate this prohibition rule shall be subject to stern sanctions by the BOA
the CPAs rendering the compilation services for the preparation of the FS and signing the Certificate shall first be accredited with the BOA after submitting the necessary application and complying with the Continuing Professional Development (CPD) requirements
these CPAs should apply for accreditation not later than February 29, 2016 and comply with the CPD requirements not later than June 30, 2016 after signing an affidavit of undertaking to that effect
the rules shall apply for the FS pertaining to year 2015 and the Certificate attached to said FS submitted for statutory purposes
Questions on the implementation of this resolution can be emailed to -- boa.secretariat@gmail.com.
Questions about this communication should be referred to Mabel Comedia or Jerald Sanchez.
BOA NOTIFICATION fs preparation BOA RESOLUTION 3-2016 JAN 20 2016
Download PDF [344 kb]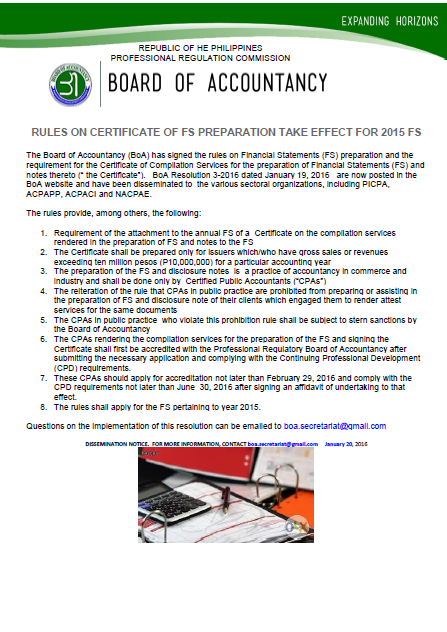 Reso requiring certificate by the CPA
Download PDF [3611 kb]