Enforcement of R.A. No. 9510 over Financing Companies
Regulations
This Accounting Alert is issued to provide information about the recently released Memorandum Circular No. 3, Series of 2016, issued by the Securities and Exchange Commission (SEC) on the enforcement of Republic Act (RA) No. 9510, Credit Information System Act, over financing companies.
Financing companies registered with the SEC and holding a valid Certificate of Authority to operate as such are mandated by the said law to submit "Basic Credit Data." Basic credit data refers to positive and negative information provided by a borrower to a submitting entity in connection with the application for and availment of a credit facility and any information on the borrower's creditworthiness in the possession of the submitting entity and other factual and objective information related or relevant thereto in the submitting entity's data files or that of other sources of information. Provided, that in the absence of a written waiver duly accomplished by the borrower, basic credit data shall exclude confidential information on bank deposits and/or clients' funds under RA No. 1405, Law on Secrecy of Bank Deposits, RA No. 6426, The Foreign Currency Deposit Act, RA No. 8791, The General Banking Law of 2000, RA No. 9160, Anti-Money Laundering Law, and their amendatory laws.
Financing companies are required to submit to the Credit Information Corporation (CIC) their basic credit data namely: (1) their 5-year historical data and, (2) their current data on or before August 31, 2016 and enjoined to attend CIC's Credit Infrastructure Roadshows by contacting CIC through 893-6249 or inquiry@creditinfo.gov.ph.
See attached documents for the copies of SEC Circular No. 3-2016 and CIC Circular No. 2015-02, Series of 2015.
​P&A Accounting Alerts are issued to keep our clients updated with the latest developments in financial reporting. These are not intended to be a substitute for professional advise. If you would like to unsubscribe, or add a colleague or a friend to our mailing list, please let us know by return e-mail. For inquiries and suggestions on how the Accounting Alert may be even more useful to you, e-mail Mabel.Comedia@ph.gt.com or Jerald.Sanchez@ph.gt.com or call 988-2288.​
CIC Circular No. 2015-02 Series of 2015
Download PDF [1546 kb]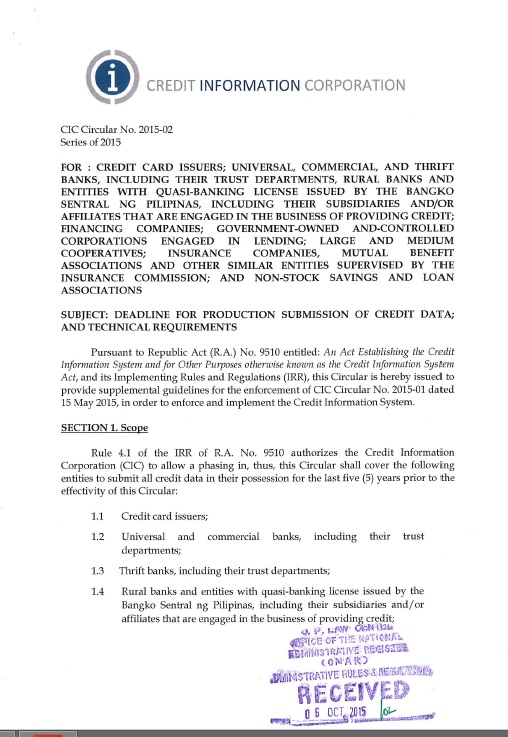 SEC Memo Circular No. 3 Series of 2016
Download PDF [490 kb]