2005 Illustrative Separate PFRS FS
This Accounting Alert is issued to provide an illustrative set of financial statements (Illustrative FS), prepared in accordance with generally accepted accounting principles in the Philippines as set forth in Philippine Financial Reporting Standards (PFRSs), for a fictional manufacturing and distribution company of semiconductor products (ABC Manufacturing Company, "ABC" or the "Company").
Should you have any questions on the new accounting standards or should you need assistance on matters covered in this Accounting Alert, please contact the P&A engagement partner assigned to your company, or send an email to any of the following partners of the Firm:
Greg S. Navarro, Managing Partner & COO, at Greg.S.Navarro@pna.ph
Lily S. Linsangan, Head of Audit and Assurance, at Lily.S.Linsangan@pna.ph
Dally B. Duque, Partner-in Charge, Technical Group, at Dally.B.Duque@pna.ph
Please see the attached files for the complete accounting alert.
Account Alert 2006
Download PDF [106 kb]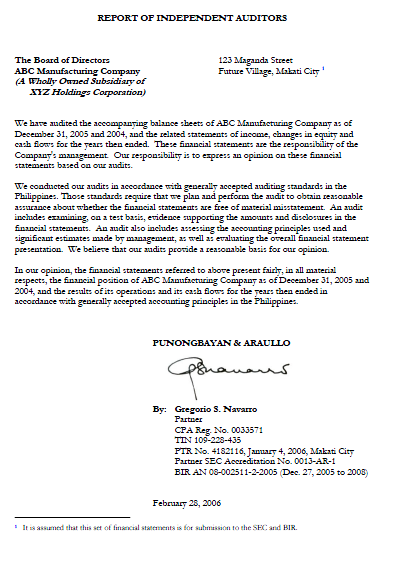 Please see the attached files for the illustrative FS.